At the halfway stage of the competition open period for the Tarifa Strapless Kitesurfing Pro 2016 we were hopeful of another thermal increase to boost the light Poniente. At 3.30pm that's exactly what we got. A solid 20 knots was noticeably cooler than the first two days as the wind raced in harder off the Atlantic.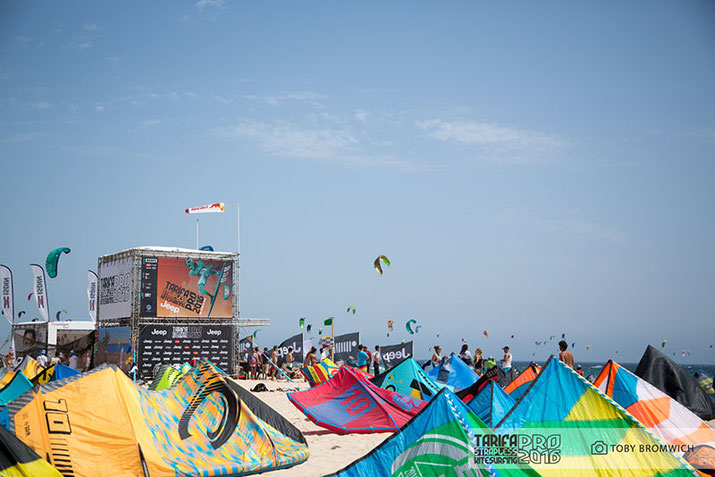 Judging tower and riders' area at Valdevaqueros / PHOTO: Toby Bromwich
First up was the second round of heats, involving those riders who finished second and third in the first round. As the last chance for these riders to stay in the competition, there was a noticeable urgency in the tricks.
One of the local favourites, Wet rider July Rebollo, was up first against the powerful D'Jo Silva who was now looking much more comfortable in the stronger winds. July advanced nevertheless, grateful for his hometown support, bowing graciously to the crowds on the beach as he walked back to the launch zone.
Sandro Pisu from Italy then despatched Camille Delanny, a French rider who lives in Jericoacoara in Brazil, used to stronger winds. Italian Stefano Gentile was given a free pass to the third round as Luis Brito pulled out with injury. Rafael Morales advanced too, knocking out fellow local wildcard Jhon Palacios.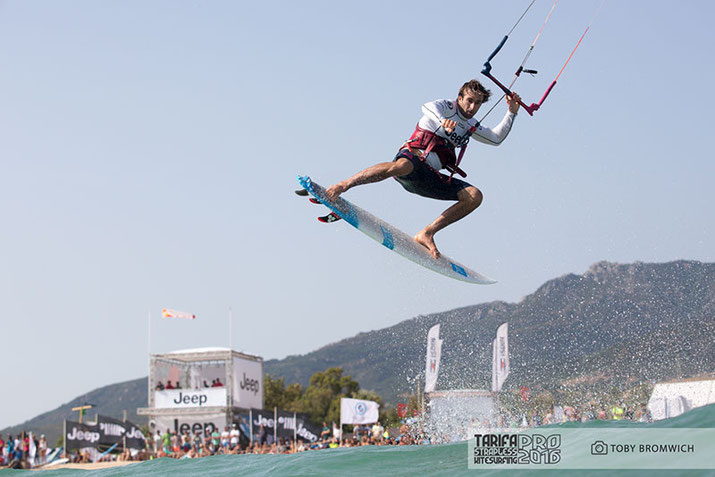 Rafa / PHOTO: Toby Bromwich
In heat #13 Matt Elsasser from the USA opted to go out stacked on his 13m Cabrinha Drifter. His handle-pass attempts resulted in gnarly wipeouts but he also demonstrated enough technicality to send Silvan Oz home. Danny Morrice, the young British rider, was the next rider eliminated from the competition at the hands of Theo de Manez. Both riders rode anxiously knowing that this was their last chance, but it was the young rider from Saint Martin who frequently landed more skate-style tricks to advance.
Hawaiian big wave charger Patri McLaughlin was up next in heat #15 against Gustavo Arrojo, another local wildcard. Patri opened up with a huge front roll, an instant improvement on his round one performance. Patri later commented that 20 knots was only just about enough for him to keep the board on his feet, but it didn't show as he dropped more powered front rolls off the kickers with his kite at 45 that looked more like S-bends. Gustavo pulled a succession of varied spins and transitions, but could not match the controlled power and hot landings of Patri.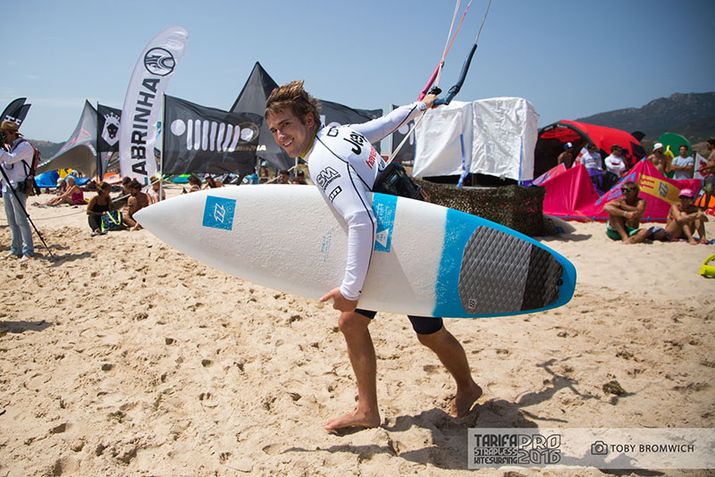 Patri / PHOTO: Toby Bromwich
Ralph Boelen V Raul Munoz was a scrappy looking heat, though by this time both riders had stepped down a kite size – Ralph to an 8m North Neo, Raul to  9m Cabrinha Drifter, and this became the first time in the round that we saw some serious big back roll kite loop attempts. Done in close, you could feel the intensity of the attempts as each rider looked intent on scoring big points for the wow factor. In the end it was the Frenchman Boelen who progressed.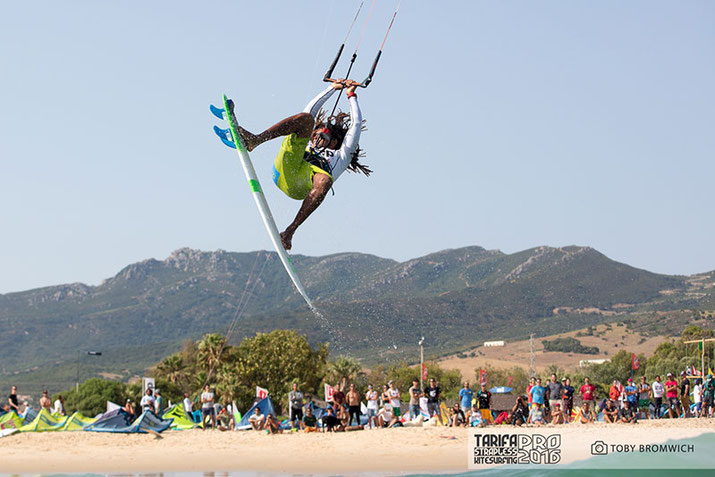 Jan Marcos Riveras / PHOTO: Toby Bromwich
On to round #3 and the winners from round one re-entered the competition. First up was an interesting heat for the crowds with friends, North team mates and Wet Watersports colleagues, July Rebollo against Jan Marcos Riveras – one of the eight pre-qualified riders. July had been a crowd pleaser throughout and once more whipped the spectators into hysterics with his no-holds-barred approach. Although much more used to a strong Levante conditions, July nailed a low altitude double front roll – the first one in the competition, but it wasn't enough to see off the more established Jan Marcos, who manages to bring a certain style to his manoeuvres, especially his back roll kite loops during which he allows his body to get really stretched out. With a higher volume of clean landings and technical variety, Jan Marcos was through, leaving July to bow graciously to his fans on the beach when he returned.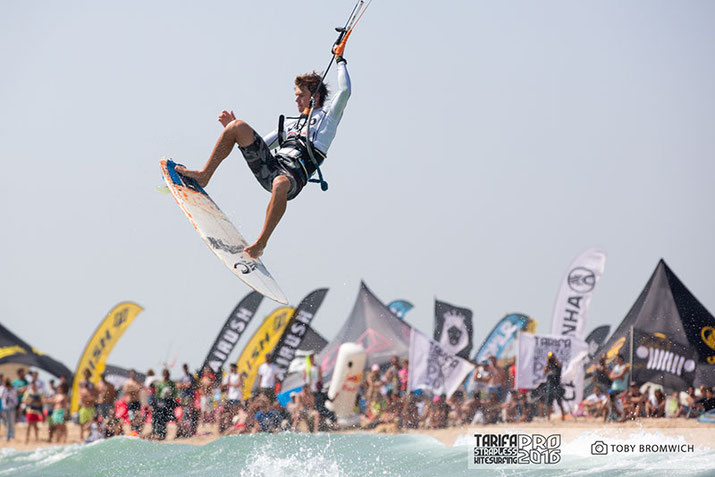 Evan Netsch / PHOTO: Toby Bromwich
Evan Netsch from the USA once again looked incredibly smooth. One of the most effortlessly classy riders in the event, he demonstrated total control over his board with a series of unhooked air reverses, shuvits as well as front rolls off the kicker. Sandro Pisu battled hard throughout the comp and threw everything at it, but he was outclassed by the American.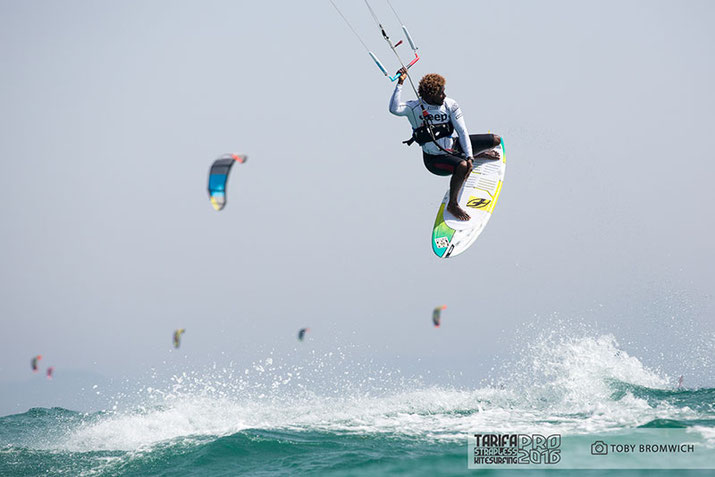 Mitu, the master / PHOTO: Toby Bromwich
First sighting of the day from the legend Mitu Monteiro from Cape Verde who demonstrated exactly how to do a Crazy Horse kite loop. No dangling, just raw power and control from his kite. He was obviously having fun as he ripped and slashed his way in and around the shorebreak. No points there, but he's obviously so at home in this discipline that he's played such a big hand in developing. Stefano Gentile was forced to say goodbye to the contest this year as a result of Mitu's deeper range of tricks and more intense kite loops, pulling the kite much earlier and harder than most riders.
Matchu Lopez showed his class and professionalism once again with a huge back roll kite loop and 360 surface pass in heat #20, mixed with a succession of technical shuvits to knock out Rafael Madueno. Reider Decker and Matt Elsasser, friends from the USA went up next and looked to be cheering each other on through their tricks. The influence in the USA where often the wind is much lighter, is clearly on the more skate-style tricks. There wasn't so much big action on display here with the riders working the judges to pick between the technical board flips and foot work. Decker prevailed.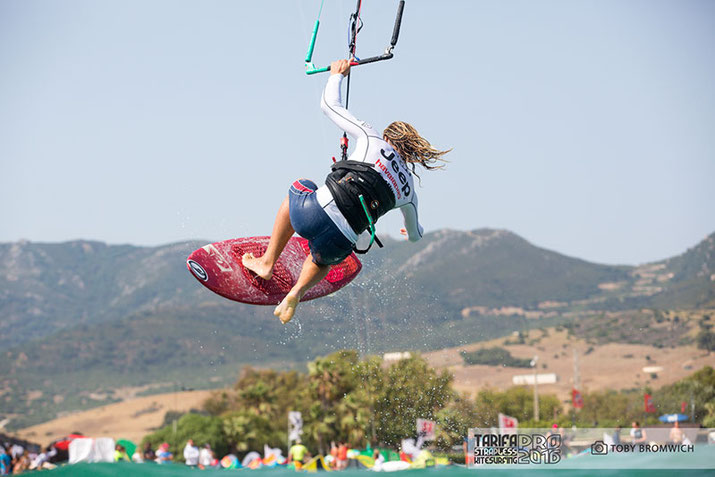 Reider Decker / PHOTO: Toby Bromwich
Paulino Pereira with his cheering squad from Portugal once again showed his very obvious intent to reach the podium this year. He's so good unhooked, so comfortable and yet rides with so much speed and intensity. Theo de Menez was forced to concede as Pereira swifty advanced to the quarter finals.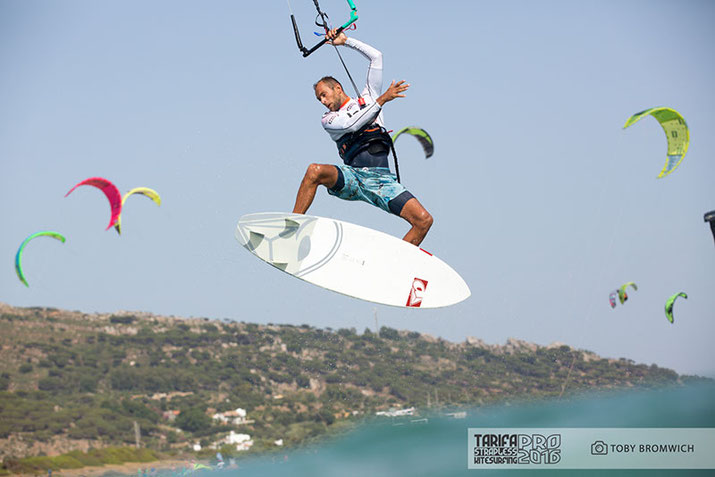 Julien Kerneur / PHOTO: Toby Bromwich
Heat #23 was a battle of the big guns, with Patri McLaughlin and Julien Kerneur going head to head. Patri is a big wave charger from Hawaii while Julien is an immense talent across a wide range of kiteboarding disciplines, and has claimed podiums in everything from racing and foiling, to waves and freestyle in his time. A workers heat, Julien advanced with a greater range of tricks and technical strapless trick ability.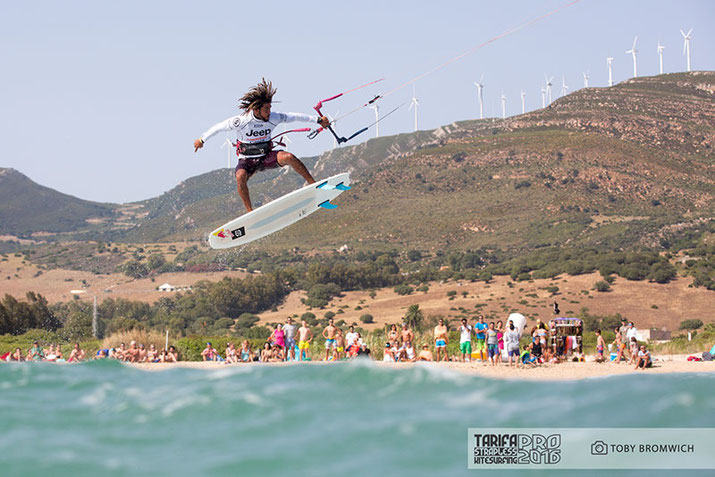 Airton Cozzolino / PHOTO: Toby Bromwich
The crowd went wild as Airton Cozzolino hit the water. His first heat for the day, it seemed to take him a little while to find his rhythm, crashing and butt checking a series of tricks, but once locked in and flowing, within two runs and three tricks on each, the heat was all but over for Ralph Boelen.
So we then had our quarter final line-up…
QF #01 Jan Marcos Riveras Vs Evan Netsch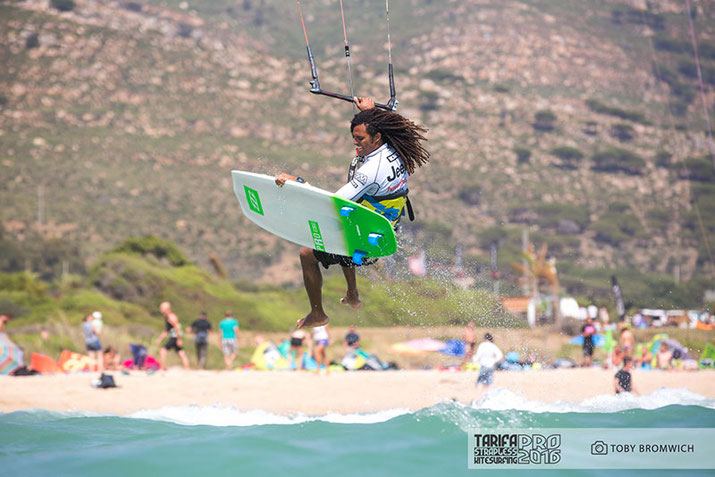 Jan Marcos Riveras / PHOTO: Toby Bromwich
Two of the most accomplished riders got the quarter finals off to a stumbling start. Evan had been especially smooth up to this point and suddenly found that his intricate touch seemed to desert him, dropping air reverse passes and being yanked by his kite, crashing his front rolls – a few of those in a row and it starts to take the wind out of your sails, especially against a rider like Jan Marcos who rides with high intensity all the time. Jan Marcos landed a tictac kite loop as well as a switch front roll. Evan tried another air reverse surface pass but failed, giving Jan Marcos the win and the first semi final position.
QF #02 Mitu Monteiro Vs Matchu Lopes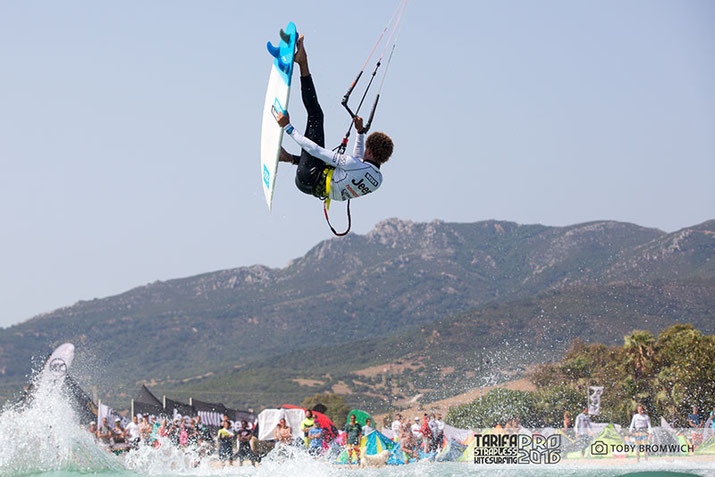 Matchu / PHOTO: Toby Bromwich
The legend meets his apprentice. There's so much respect amongst the Cape Verdean riders for each other, but also for Mitu Monteiro and what he's done for this part of the sport. Mitu seems to be able to land his tricks whatever the conditions; his experience is huge. Counting towards his score were a front to toeside 180 and a back loop kite loop, but he missed a vital air pass. Matchu maintained his steady pace, lacing together a front roll shuvit and a backside 3. Matchu has so many tricks up his sleeve and yet still seems like he's riding with something in reserve. Despite Mitu's ability, the young apprentice Matchu took the second semi final position. Both riders embraced on the beach and then continued in discussion on the beach for the remainder of the contest, looking on at the action.
QF: #03 Paulino Pereira Vs Reider Decker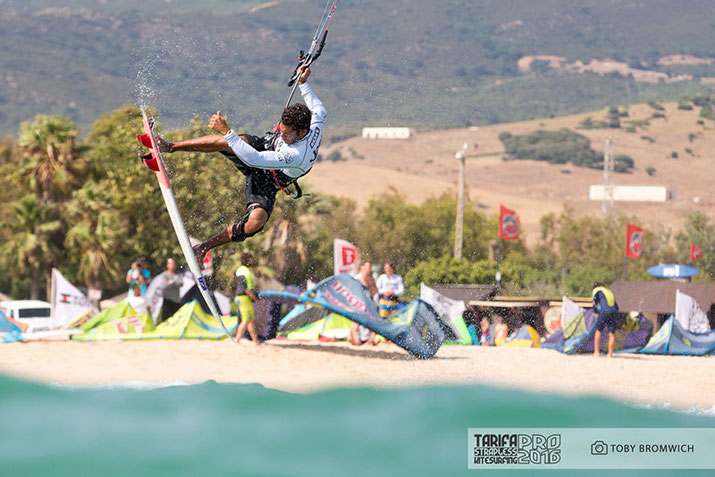 Paulino Pereira / PHOTO: Toby Bromwich
Although the winds were starting to ease, Paulino's fiery approach kicked off with a bang, pulling a clean backside 3 near the start of the heat. The Portuguese also demonstrating what a good competition rider he is, able to switch to a more graceful style to get the points in the bag with a board-off and a very steady, consistent and smooth front roll with his kite at 45. Reider reached deeply into his skate bag of tricks with a front roll shuvit followed by a clean back roll, but couldn't quite reach the technical variety high scores of Paulino, whose friends cheered loudly and lifted him onto their shoulders when the result was announced on the beach.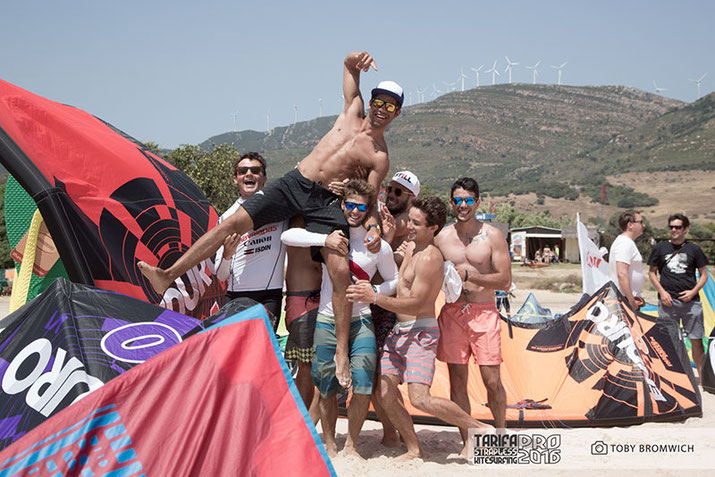 Paulino prevails! / PHOTO: Toby Bromwich
QF: #04 Airton Cozzolino Vs Julien Kerneur
Airton, charged after a kite swap / PHOTO: Toby Bromwich
Already announced as the last heat of the day, this was a match up to savour. Both Airton and Julien are two of the most competition savvy riders in this contest and know exactly what it takes to win a heat. The judges sheets were stacked by the end. French rider Julien really stepped up to the plate in this round against Airton who very much specialises in this discipline. Successfully racking up shuvits, front rolls and back roll variations first, Julien then took a deep breath as he attacked the kickers on his last run and successfully landed his first shifty 3 in this contest. However, it wasn't quite enough to match the very impressive Cozzolino who throughout the heat had landed three backside 3s and a shifty 3 on top of solid switch and regular front rolls, air reverses, shuvits and more. A quick kite switch halfway through the heat had given him the extra power he needed and after that he never missed a beat. The precision he rides with and his pre-heat preparation really shines through in each of his heats. Someone is going to have to have the heat of their life to take this away from Airton.
So there we have it, what epic semi finals to look forward to this afternoon!
Semi final #01: Jan Marcos Riveras Vs Matchu Lopez
Semi final #02: Paulino Pereira Vs Airton Cozzolino 
Rider's briefing is at 1pm, first possible start 1.30pm. The wind is switching to Levante today, so we'll see if it kicks in with force this afternoon as tomorrow also looks very solid. Contest directors could have the luxury of picking the strongest conditions possible for what will surely by a firework display!
The GKA Wave & Strapless FreestyleTour will see a mix of freestyle and wave events over the next few months, eventually resulting in the crowning of a GKA Wave & Strapless Freestyle Rider of the Year. The tour moves on to Sotavento in Fuerteventura in August, Mauritius in September, Dakhla  – Morocco in October and Fortaleza in Brazil in November. This first event in Tarifa kicks things off as a purely strapless freestyle event.
More updates soon. For more news, please follow the GKA:
Like the GKA Facebook page here
Follow the GKA on Twitter here
Like the official Tarifa Strapless Kitesurfing Pro Facebook page here
For more info on the GKA and the Grand Slam series, visit:
Comments
comments