To say that anticipation for this event was high would be an understatement. Not only is this the first stop on a brand new GKA Wave & Strapless Freestyle Tour, but it's been a whole year since any of these riders have gone up against each other in competition. For some, of course, this is their first taste of strapless freestyle competition.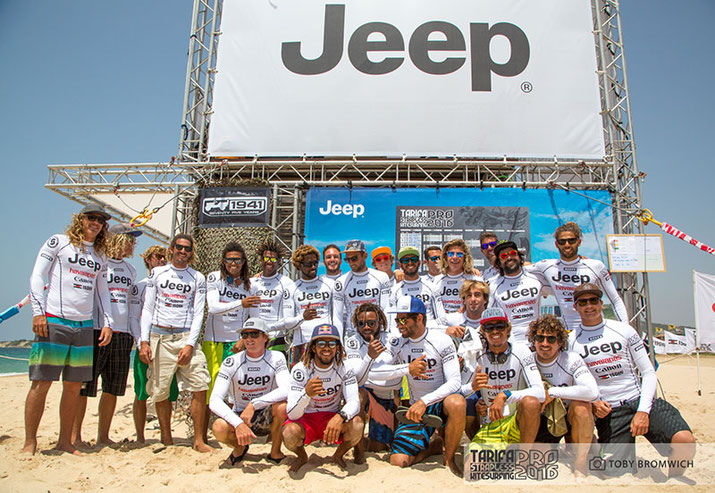 The riders of the 2016 Tarifa Strapless Kitesurfing Pro / PHOTO: Toby Bromwich
The light Poniente wind seemed intent on making us wait a little longer still. The first heat of round one was stopped for dropping winds twice before the thermal increased to a steadier 15 knots by 2.30pm and in a switch of order to give the heat one riders a break, heat two become the first full heat to run.
Contest director Juan Antonio Aragon still has three contest days in his pocket so, in no rush, he extended the heat times from seven to ten minutes to give riders as much chance to get comfortable in front of the crowds and demonstrate their skills as possible.
Evan Netsch from the USA was the first rider to impress, looking effortlessly smooth and accomplished as he laced front rolls on both tacks, shuvits and his best trick, an unhooked toeside frontside 3. Winning his heat against Theo de Manez and Djo Silva, the Cabrinha team rider advanced straight to round three. Taking second and third respectively, de Manez and Silva will appear next in round two in this dingle format that sees everyone get a second chance to progress in the competition if they don't win in the first round.
Jan Marcos Riveras / PHOTO: Toby Bromwich
Resident star Jan Marcos Riveras hit the water next to a rapturous cheer from the gathering crowd on Valdevaqueros beach, all basking in the sunshine and excited about the developing show. Jan Marcos delivered a high octane repertoire from the very start and maintained a varied and high trick count throughout his heat. Unpredictable in his manoeuvres, the North rider looked relaxed but focused and rarely missed a beat. Board varials, the first kite loops of the contest – he almost landed a tick-tack kite loop – but very much sealed his win with a front roll to toeside with reverse surface pass on the inside right in front of the judge's tower. Matt Elsasser from the USA, one of the eight pre-qualified riders, struggled to find his rhythm in the heat and, along with third placed heat finisher Camille Delannoy, finds himself with more work to do in round two.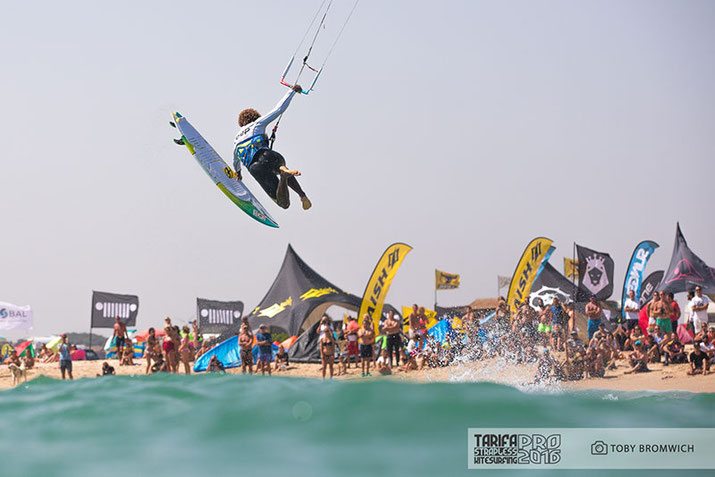 Mitu Monteiro / PHOTO: Toby Bromwich
Another huge cheer went up as the beach commentator announced the arrival of F-One's Mitu Monteiro from Cape Verde, one of the undoubted heroes and pioneers of this strapless scene. An accomplished crowd pleaser, he was cheered from trick to trick as he showed a cultured mix of floaty but technical rolls and transitions before stepping up the intensity of his performance with an air reverse 360 and front roll to toeside. Another good performance came from Gustavo Arrojo, a Spanish wildcard who sent the crowd wild with aggressive moves like a crazy horse kite loop and aerial reverse backside 3. As Mitu took top spot, Gustavo heads into round two along with third placed heat finisher Jhon Palacios, also from Spain.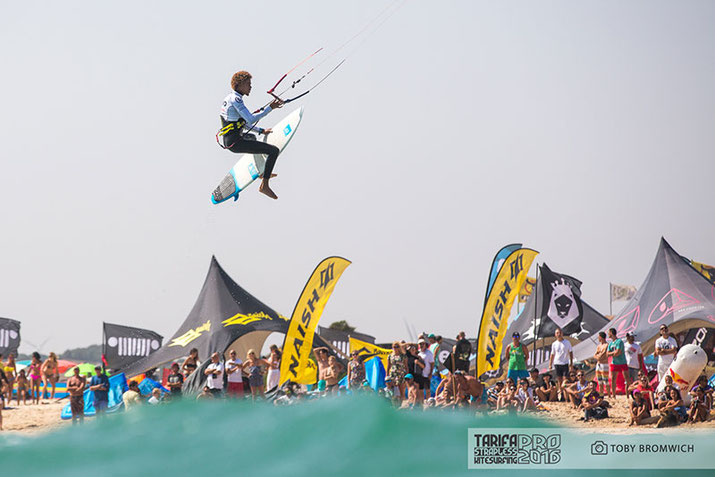 Match Lopez / PHOTO: Toby Bromwich
The heats rattled on with just a minute between heats to allow the judges to register their heat scores and up next came another leading contender from Cape Verde, Matchu Lopez. There are several riders in this contest who mainly focus on pure wave riding, but as round one wore on, the dedication to flat water freestyle, particularly evident with the crew from Cape Verde, shone through more and more. Matchu was measured in his approach. Unhurried but with a consistent frequency of moves, he showed great range around the whole competition area. Local hotshot Luis Brito waved his arms, urging for more noise from the crowd, but it was Matchu who raised the roof with a very complete performance, standing out with moves like front roll shuvits, which he makes look impossibly easy. Matchu was the first rider ever to land a strapless triple front roll. We didn't quite see that today, but he said he didn't throw all his cards on the table, so we look forward to seeing him again in round three.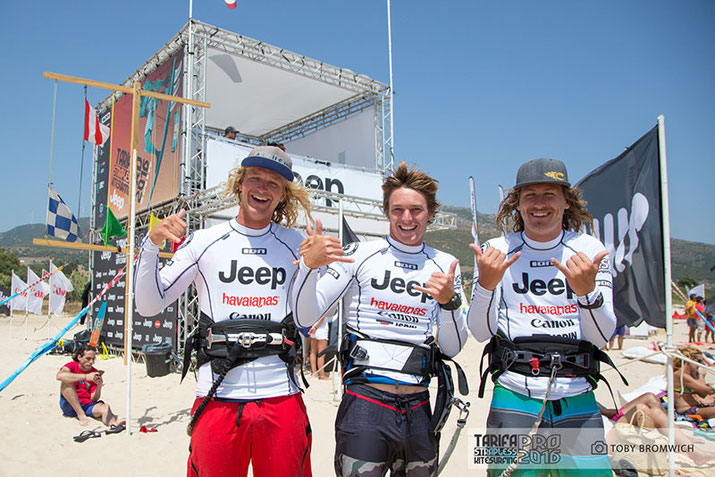 American contingent, Reider Decker, Evan Netsch and Matt Elsa's / PHOTO: Toby Bromwich
Reider Decker from the USA put in a workman like performance to take heat five, never quite flowing trick to trick like we know he can, but his intricate skate style earned him a pass straight to round three. Look out for local boy July Rebollo in round two who whipped the crowds into a frenzy, getting the biggest cheers from the beach, although he did eventually come off second best to Matchu.
Reider's Airush team mate and winner of the trials event, Julien Kerneur, also won his heat. Although he looked in better shape during the trials contest, the French all-rounder – who also excels in racing and freestyle – did enough to advance straight to round three.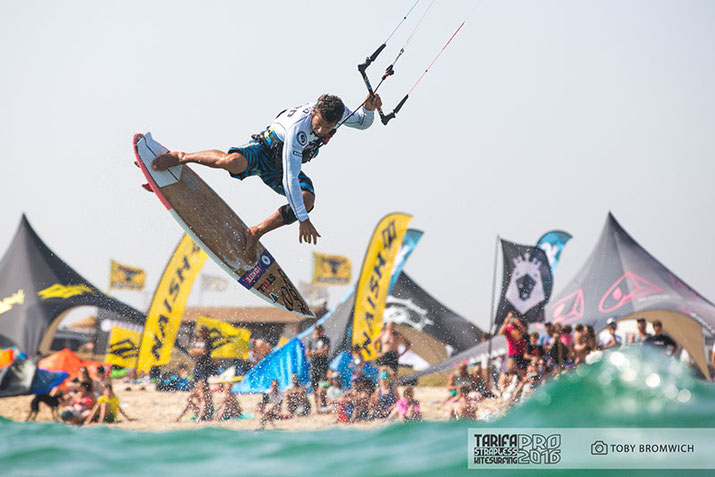 Paulino Pereira / PHOTO: Toby Bromwich
Paulino Pereira from Portugal has a strong record in wave and strapless freestyle competition, having finished fourth at this event last year, he is definitely one to watch over the next few days. Explosive and powerful, Paulino was the first rider to really open our eyes to a style comparable at times to wakestyle. Launching and landing big flat 3s with his kite low off the kickers on the inside, he rode with a next level of performance, knowing that he'd sealed his win with a big toeside frontside 3, fist pumping to the crowd. He closed his heat out with an inverted board off, pointing his toes at the sun, showing that he's ready to please the crowds and influence his overall impression score when he needs to.
Airton Cozzolino / PHOTO: Toby Bromwich
The beach commentator had been promising his arrival for a couple of heats and by the time the eighth and final heat of round one began the crowd had been hyped into a fervour for Airton Cozzolino. As his 10 metre North Neo with its big Red Bull logo swooped hard and fast past the judges' tower, the Cape Verdean and defending contest champion unleashed a volley of rapid, powered and unhooked trick variations. The wow factor is important in this contest and, as well as a succession of front and delayed back rolls, Airton had the judges gasping in appreciation of his almost impossibly assured ability with a perfect frontside three, resulting in a audible smack as he stomped his landing, at speed, in a move more usually at home on a world freestyle tour event.
Here's how the heat board looks after the completion of round one: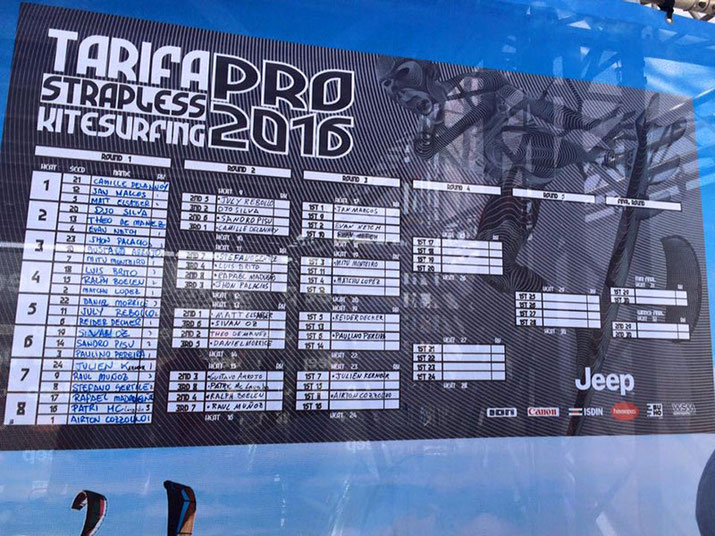 Heat board after round one
Skippers meeting for today is scheduled for 1pm with similar strength Poniente winds forecast, so we'll be relying on the thermal. Saturday looks like low winds before a notoriously strong Levante system looks set for the final day of competition on Sunday.
The GKA Wave & Strapless FreestyleTour will see a mix of freestyle and wave events over the next few months, eventually resulting in the crowning of a GKA Wave & Strapless Freestyle Rider of the Year. The tour moves on to Sotavento in Fuerteventura in August, Mauritius in September, Dakhla  – Morocco in October and Fortaleza in Brazil in November. This first event in Tarifa kicks things off as a purely strapless freestyle event.
More updates soon. For more news, please follow the GKA:
Like the GKA Facebook page here
Follow the GKA on Twitter here
Like the official Tarifa Strapless Kitesurfing Pro Facebook page here
For more info on the GKA and the Grand Slam series, visit:
Comments
comments