GKA Kite World Cup Dakhla 2019 | Final Day
The Comeback of the Season Complete – GKA Dakhla Last Day Goes-off!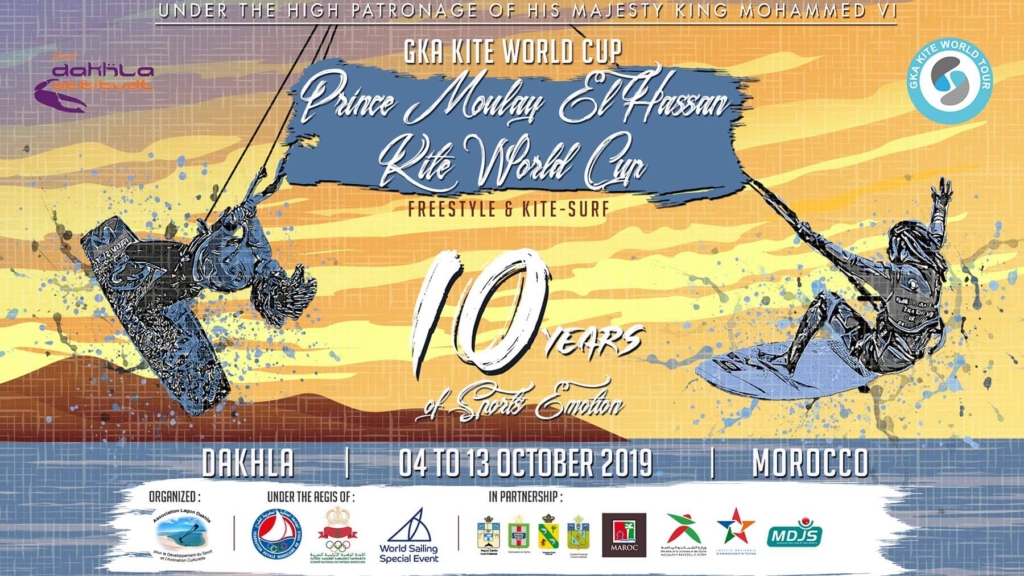 Day 2
Day 3
Day 4
Final
AIRTON COMPLETES AMAZING EIGHT HEAT COMEBACK TO WIN DAKHLA!
Carla Herrera-Oria also reached the women's final, meaning that she, Airton and Mikaili have all done enough to secure their world titles at this event! 
GKA Kite World Cup Dakhla: Day Ten Report
Monday 14th October 2019
Location: Dakhla, Morocco
Words: Jim Gaunt
Photos: Ydwer van der Heide 
Video: Oliver Umpierre 
Discipline: Kite-Surf
Location: Westpoint
On the tenth and final day of the GKA Kite World Cup Dakhla Airton Cozzolino yet again took the headlines with an incredible eight back-to-back heat winning comeback in the men's Kite-Surf double elimination. In doing so the Cape Verdean has also ensured that he'll retain his World Championship crown.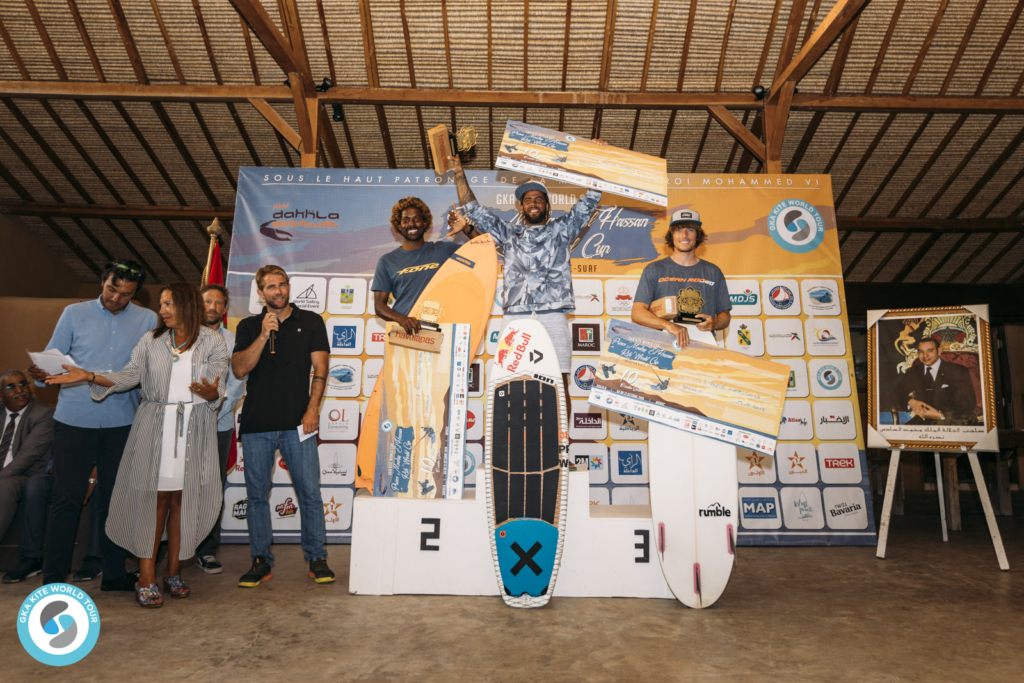 In the women's Carla Herrera-Oria also fought bravely through the entire double elimination, facing down five heats and reaching the final for her own re-match against Kirsty Jones. In guaranteeing her second place finish at the event, Carla too has done enough to win her first World Title.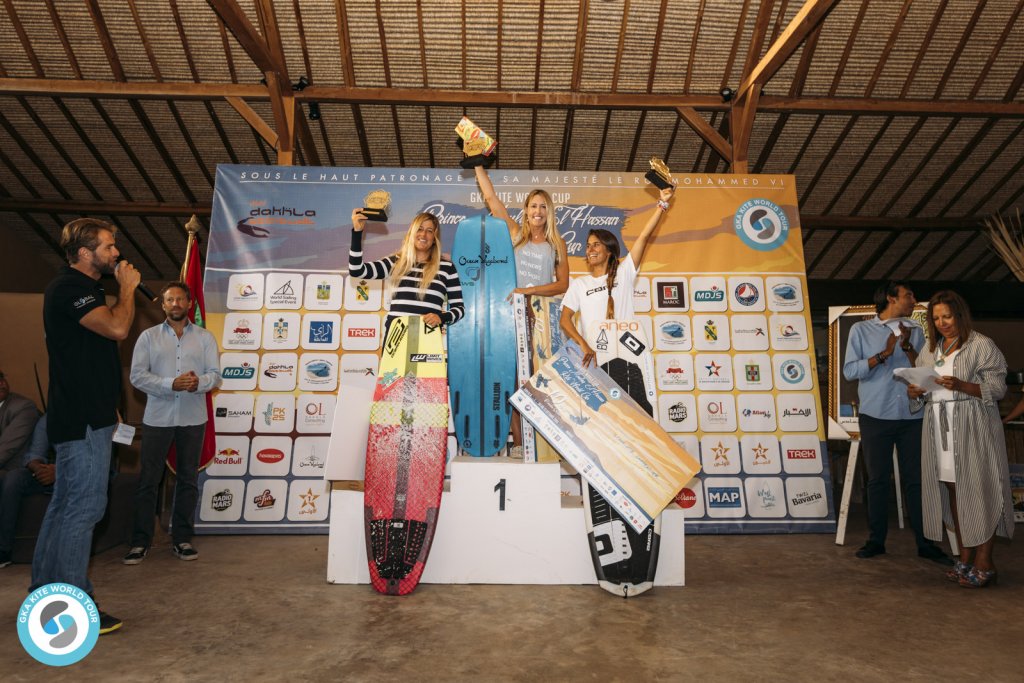 Mikaili Sol won the women's Freestyle event earlier in the week and she too will retain her Freestyle World Title, now making her a three time World Champion (she also has four junior World Titles) at just 14 years-of-age.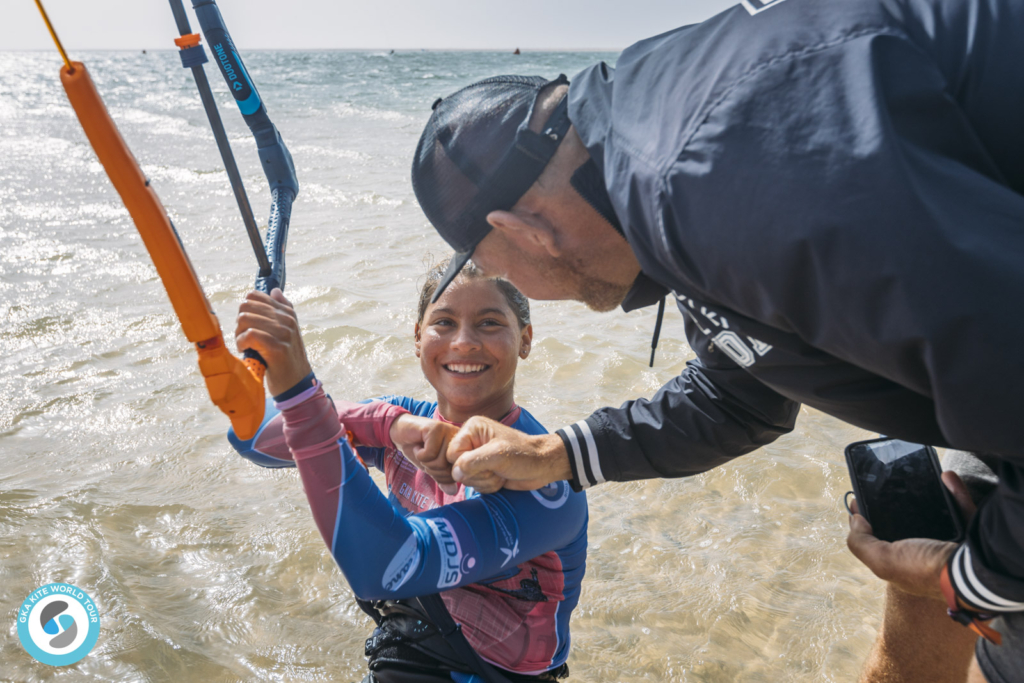 The men's Freestyle will go down to the wire at the final round in Brazil, as will the remaining podium male and female podium positions in both disciplines.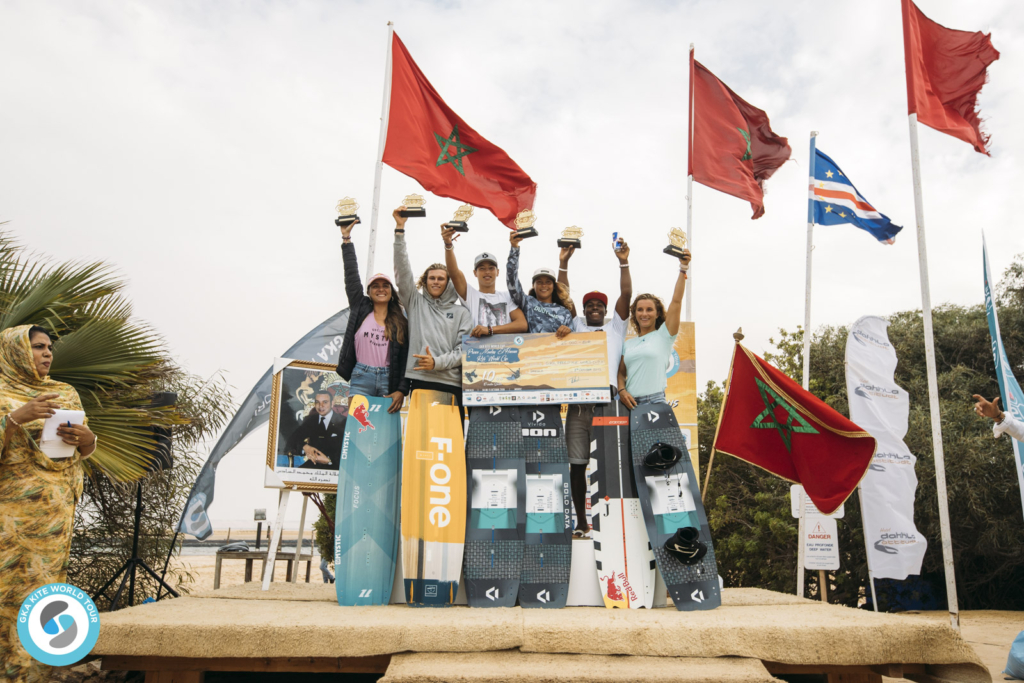 Dakhla has delivered on all levels as the penultimate event of the season with wind on each of the ten days, justifying its status as one of the best and most all-round kitesurfing locations in the world. The Freestylers completed their nail biting competition in the first five days on Dakhla's famous big lagoon in front of Dakhla Attitude, before the competition crew moved to Westpoint where the Kite-Surfers competed for the remaining half of the event window.
KITE-SURF DOUBLE ELIMINATION WEEKEND CATCH-UP
MEN:
A double elimination ladder can sometimes feel like an endless competition, but at a constantly windy location like Dakhla, where time allows for it, once the single elimination cards fall into place and the big names who lost early start to re-enter the competition, it becomes very exciting.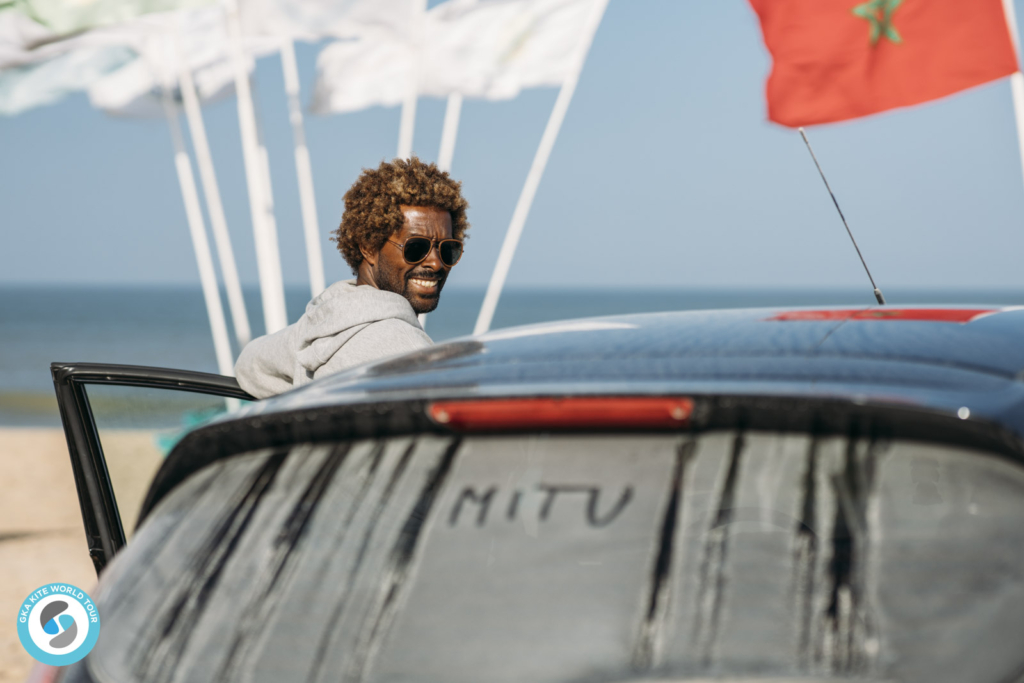 Eventually the elimination ladder narrows when most of the riders have been eliminated to leave a single line of back-to-back heats that a rider must win in order to reach the final where, in this case, Mitu Monteiro was already waiting as men's single elimination winner.
After a long wait until mid afternoon on Saturday, Airton began his comeback against Charly Martin, a rapidly rising 14 year-old wave talent from Reunion Island.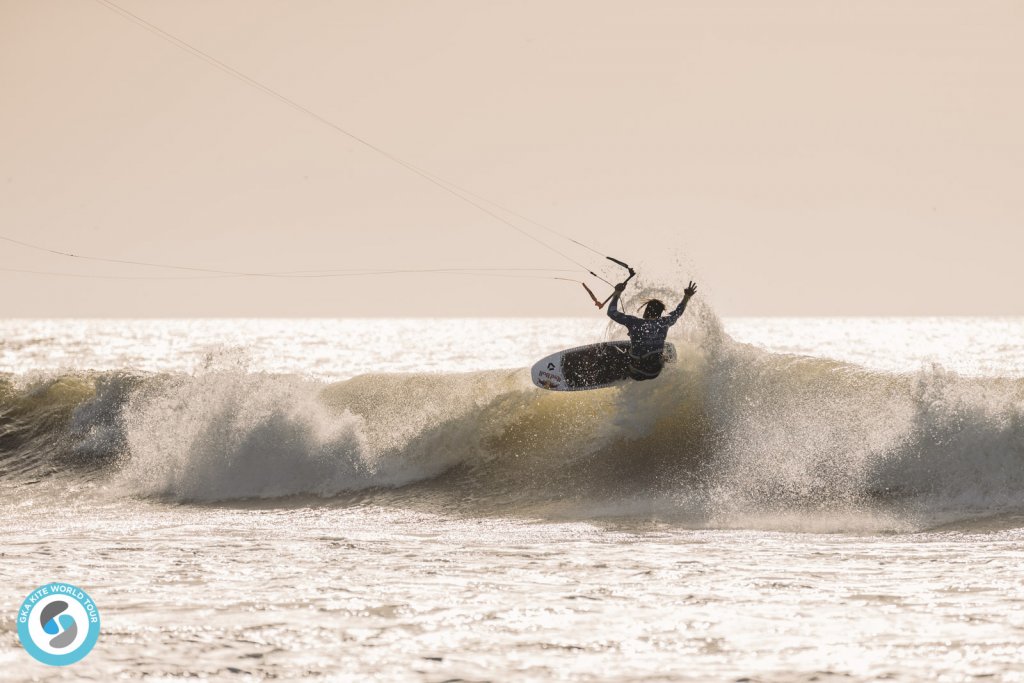 As fortune would have it, the waves were smaller and the sets more infrequent, so the format changed from pure wave to now allowing the best freestyle trick score (from six attempts) and the best two wave scores to count. Few riders can of course match Airton when it comes down to a single trick score with such consistency and, when he has a taste for revenge, no one attacks waves with such intensity.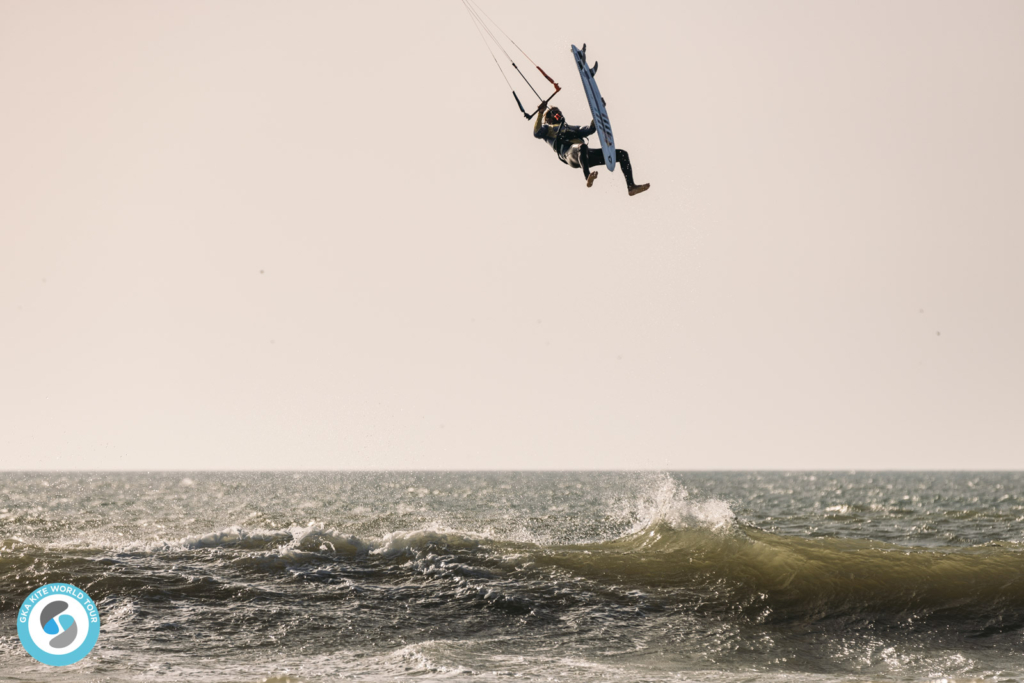 Having dealt with young Martin, Airton lined up a huge match-up against another single elimination quarter final loser, Keahi de Aboitiz. We're used to seeing these two do battle in finals, but this was where the competition really lit up as it was now a pure knock-out system: 'win your heat and take on the next highest finisher'.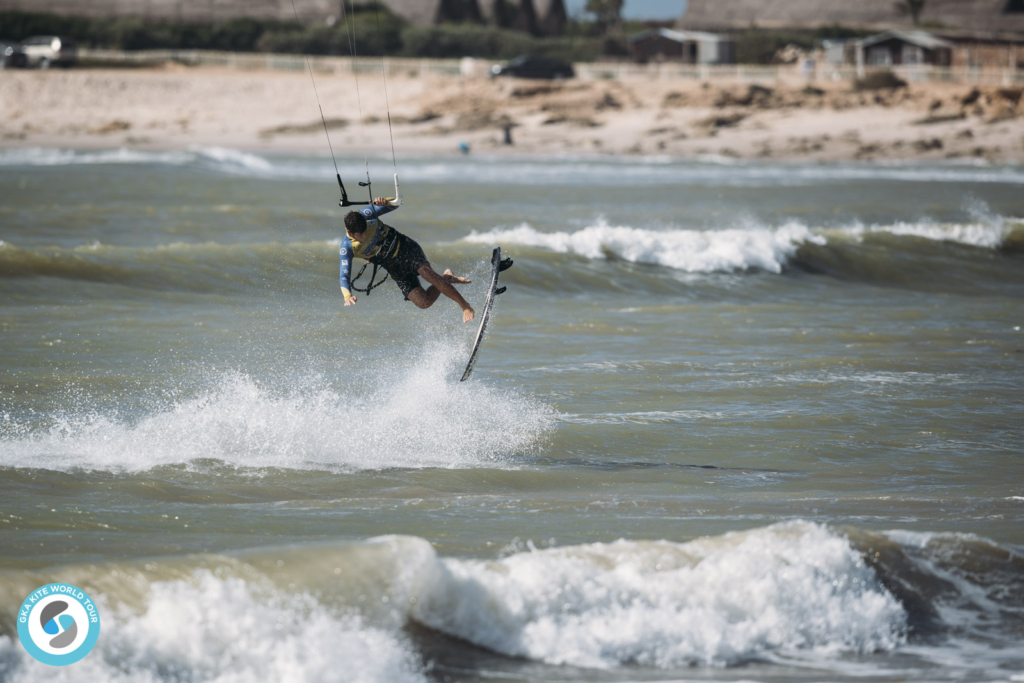 Scores remained close throughout with Keahi's typically smooth and fluid surf style against Airton's ferocious attack. Airton's big back roll tic-tac to switch stance is a high scoring freestyle move that he can seemingly always pull out and was the difference for most of the heat. We held our breath as Keahi finally managed to land the double shuvit he'd been trying for his last two heats, but it was butt checked quite heavily and couldn't bring him up to Airton's heat score of 20.03.

As Airton picked off his challengers one by one there was a sense of inevitability about what he was setting out to achieve. The more he rides and gets into his flow, the better he becomes and in a way having back to back heats is better for him, but even Airton can start to get tired. His last two heats of the day were epic battles against James Carew and then Pedro Matos – time to pull out his trusted dragon slayer – his unhooked backside 3 handle-pass off a wave kicker. Phenomenal. The wind and light faded just ahead of his semi-final re-match against Reece Myerscough.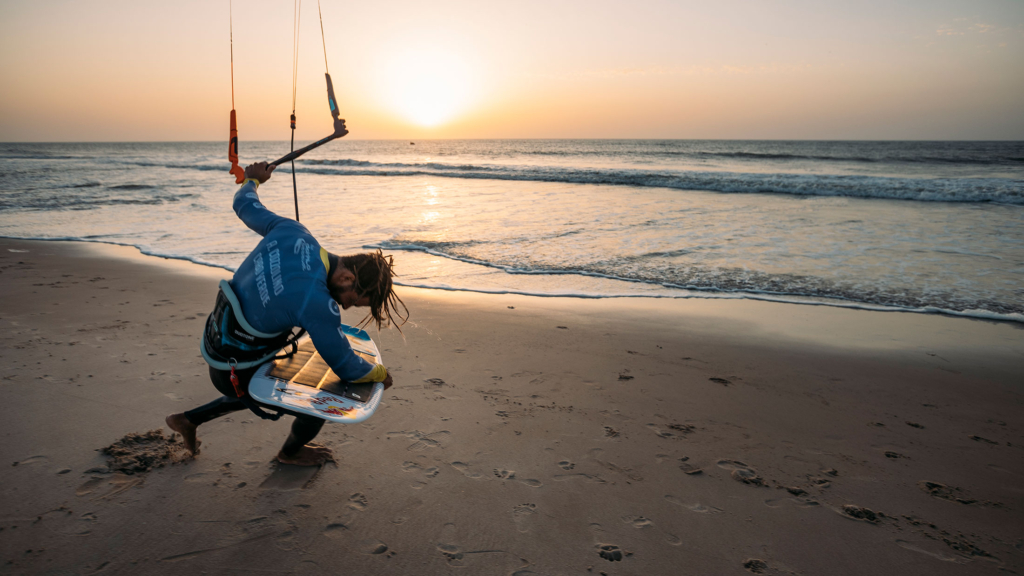 WOMEN:
In the women's single elimination, Dakhla resident wildcard originally from Wales, Kirsty Jones, was peerless in her fluid wave approach and did the most damage possible. Drawn against tour leader Carla Herrera-Oria in round one of the single elimination, the Spaniard was promptly beaten by Kirsty and found herself facing the unenviable task of working her way back through the double elimination from the very bottom.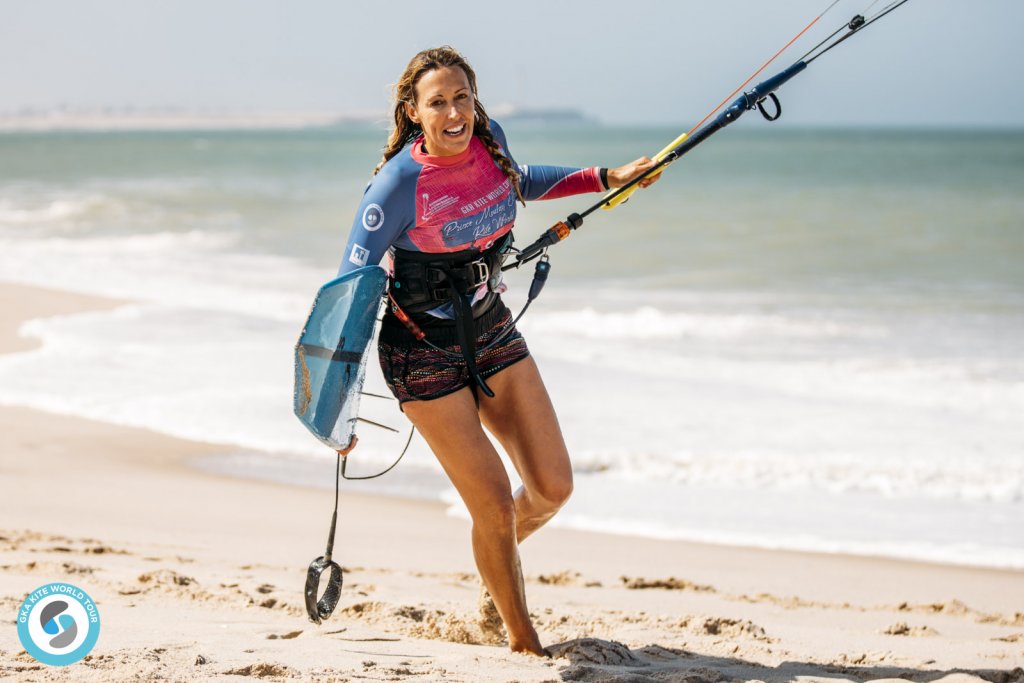 WOMEN'S DOUBLES:
The women's double elimination had begun on Friday afternoon and, by the end of Saturday evening, Carla had herself battled through five heats – as with Airton the adjusted competition format played to her strengths as the most accomplished freestyler on tour right now. However, her backside wave approach in these smaller waves made her flow and wave connection more difficult, so all her heats were closely contested in the end.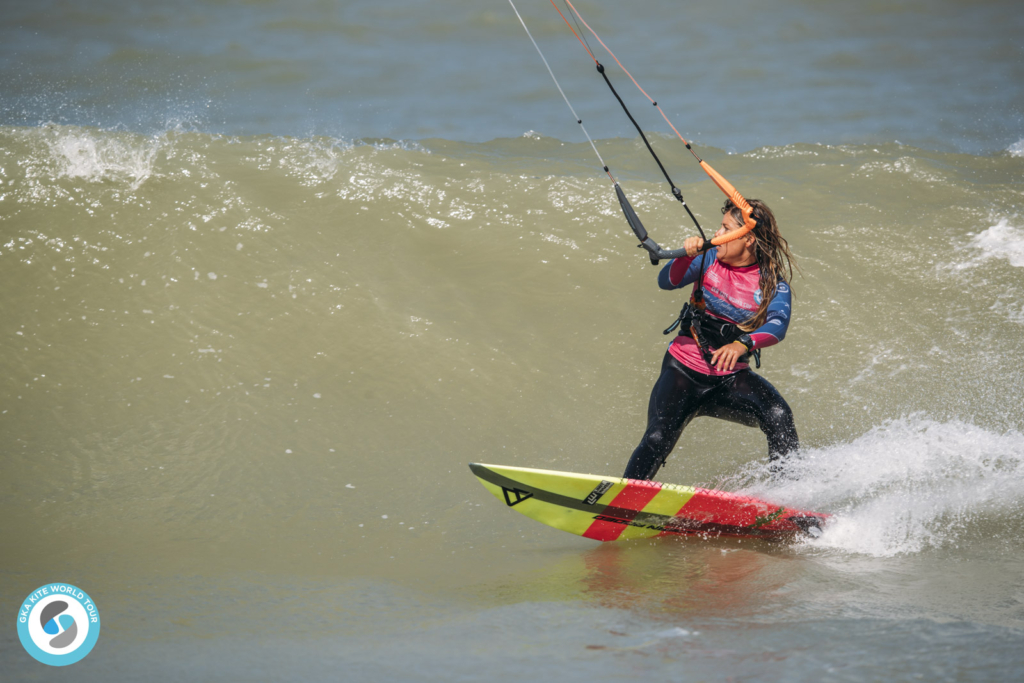 Peri Roberts was her first victim on Saturday, a new charger from Australia on tour this season who is improving event to event. Carla's back-roll board-off the difference between them in this otherwise fairly even backside duel.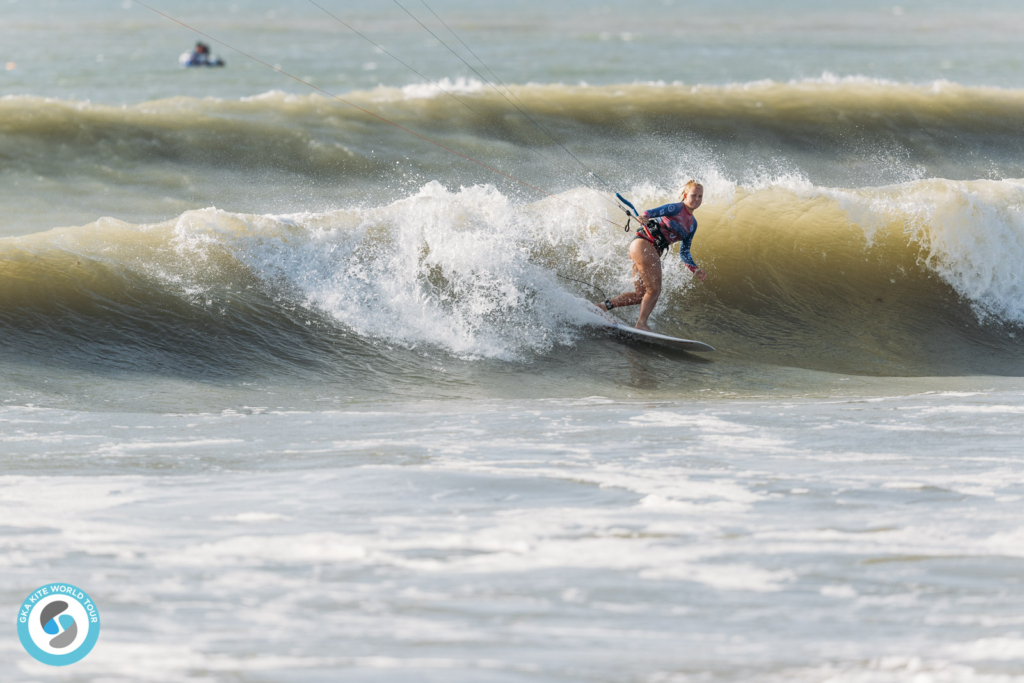 Swede Catharina Edin put up the highest wave score in the next heat, but again Carla's freestyle prowess carried her through, this time pulling the advantage from a front roll board-off.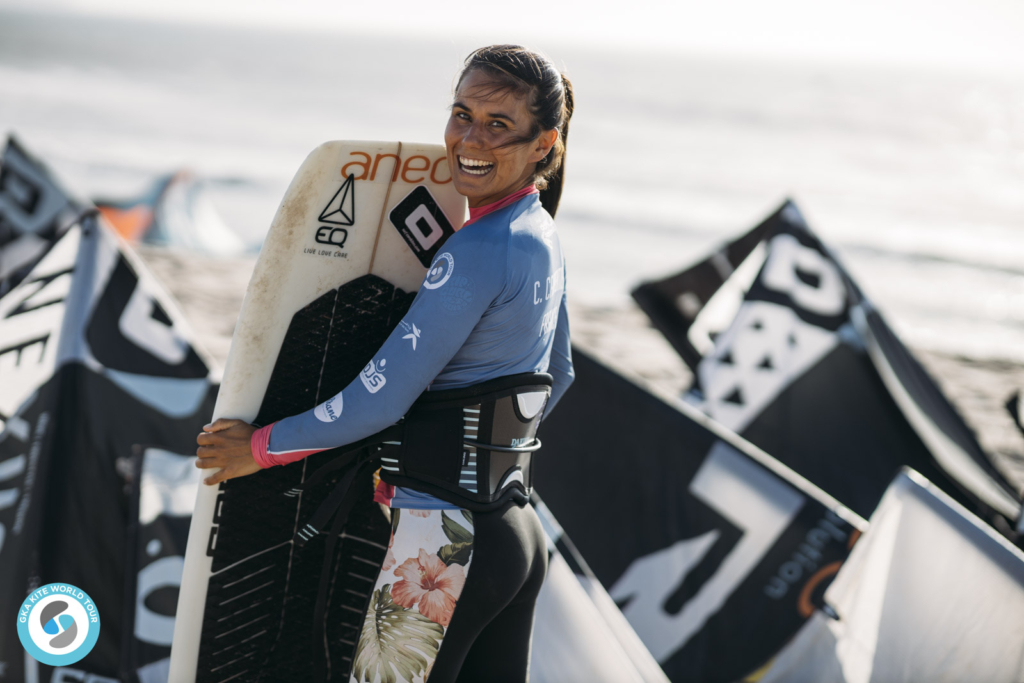 The semi-final against Charlotte Carpentier was an important heat as these are the top two riders in the championship. It was very tight too, but Charlotte only managed two waves and one freestyle trick in the heat (you could say she was efficient!) Carla's tic tac was judged better than Charlotte's straight air and with that, although the maths was still being calculated, Carla had done enough to secure the title!
SUNDAY'S FINALS
Conditions had really dropped away, but there was a little wind. The forecast showed for it to die through the day so the men's semi final ran in what became a pure wave shore break showdown.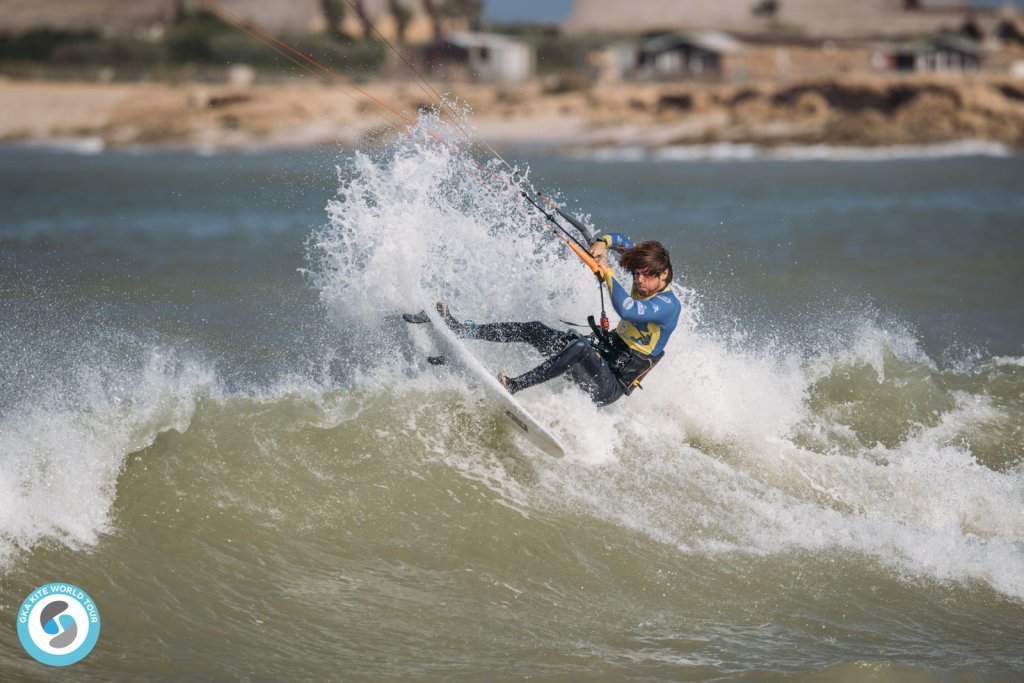 REECE V AIRTON
Opportunities were scarce but both riders challenged themselves to catch the jacking waves closer and closer in to shore. Nearing the end of the heat Airton somehow sensed that a little pulse of energy was going to turn into something workable and it did. He fired in four turns in very close succession, getting a 5.23 score and took the lead: 11.03 to 10.53. His sixth heat win in a row was complete. There was only Mitu left, and he'd have to beat him twice if he wanted to claim the event win.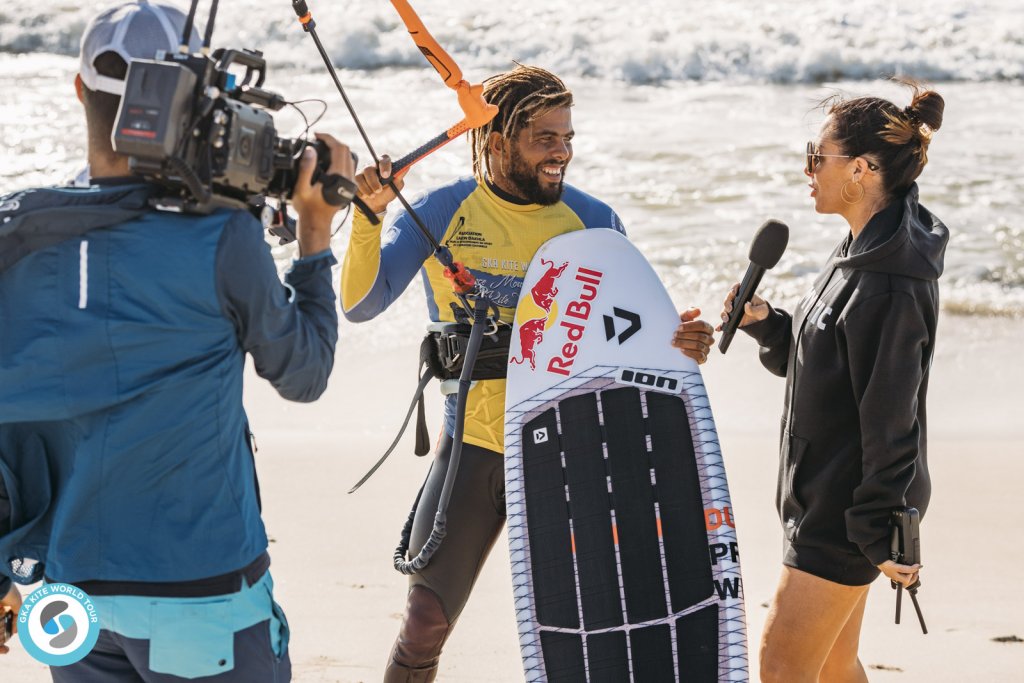 KIRSTY V CARLA
Focus switched to the women's final between Kirsty Jones and Carla Herrera-Oria in what were very difficult conditions. Kirsty's second wave did most of the damage – taking full advantage of the most open face in the heat, carving out a 5.7 score. She went on to slowly increase her second wave score throughout the heat and finished with a two wave tally of 10.33 to 6.06.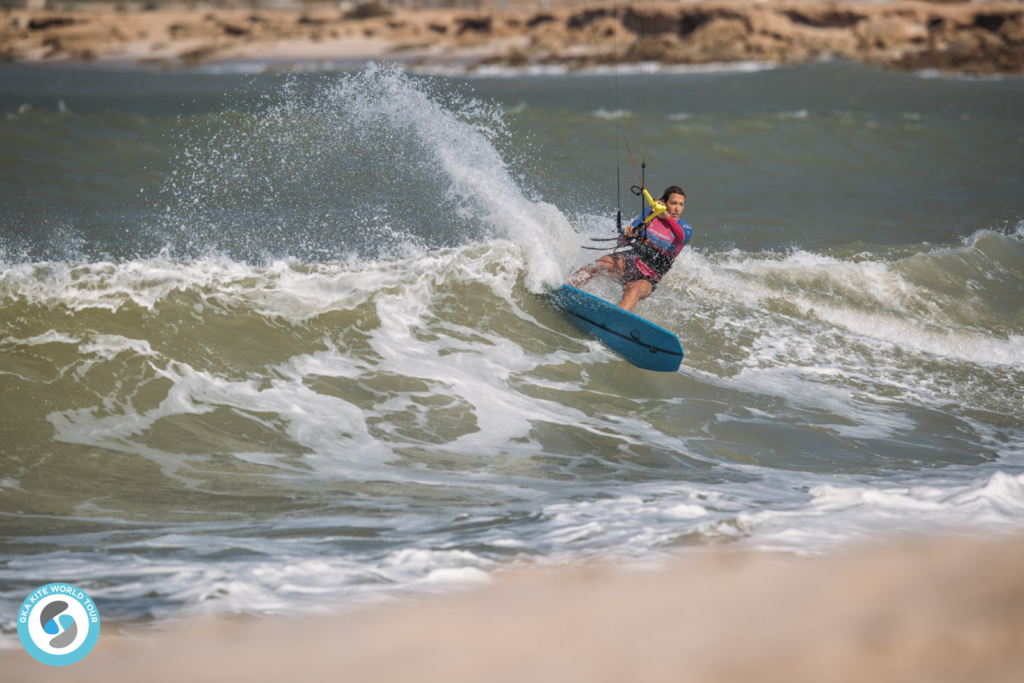 A multiple world champion in the past, Kirsty said that she was so pleased to win. "It's disappointing that the waves weren't better for the final, but I'm just so happy. The girls have convinced me to work on my strapless freestyle, so let's see what happens. Right now I feel very motivated to come back."
MITU V AIRTON (PART 1)
The wind then turned more offshore and with the higher tide taking effect the waves flattened off. The competition remained on hold until finally at 5.20pm the final between single elimination winner Mitu Monteiro and Airton Cozzolino was on. These weren't the dream conditions for the tour, but the freestyle and wave combination format is what the future of strapless riding is about and sometimes World Championships are wrestled out in a dog fight.
What isn't in doubt is that the vision and ability of these riders really can inspire us to look at our own ordinary conditions very differently.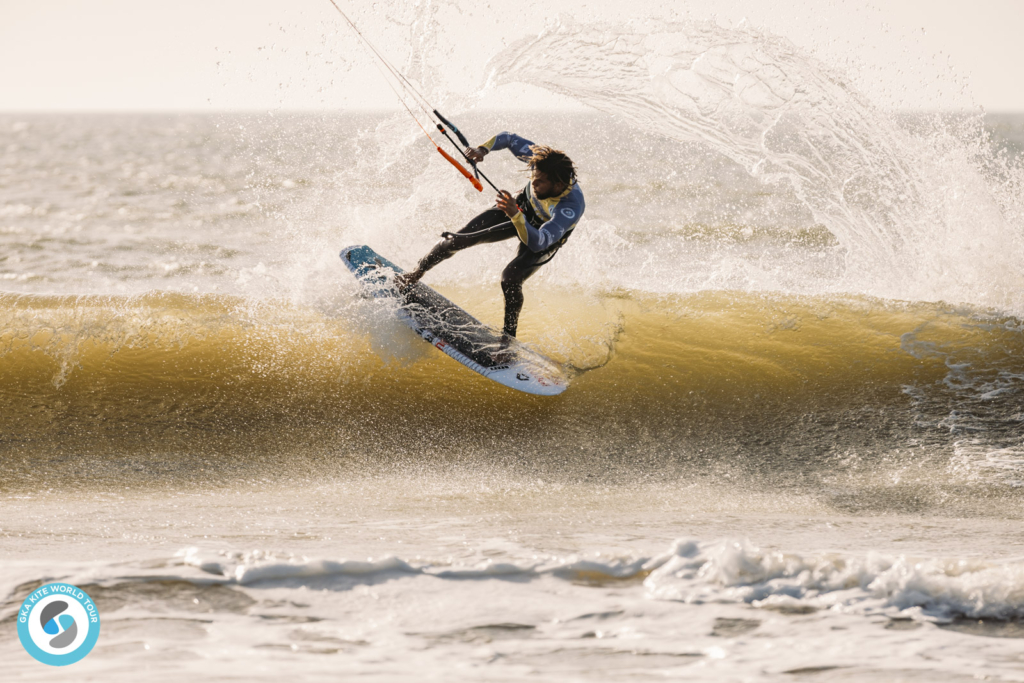 Both riders got into wave action within the first two minutes. Airton looked incredibly hungry, managing six hits on one wave, such is the intensity of his riding and how he can manage to pack in a succession of tight turns – pure surf style. Mitu matched him almost wave for wave and this turned into a titanic battle, including a barrage of fins-out hacks, airs off-the-lip and wave 360s in the pocket.
The separation came with freestyle – Airton having landed a particularly big back tic-tac to switch, scoring 7.27. After a nail biting final flurry of wave attacks from both riders, in the end Airton won by 20.37 to 17.43, forcing a super final.
MITU V AIRTON: THE SUPER FINAL
The two Cape Verdeans – great friends and the best of foes – went at it again in the same vein. Mitu made several beautiful airs, somehow always riding them out and he looked to be linking the sections for longer, though Airton seemed to have the upper hand in actual wave selection.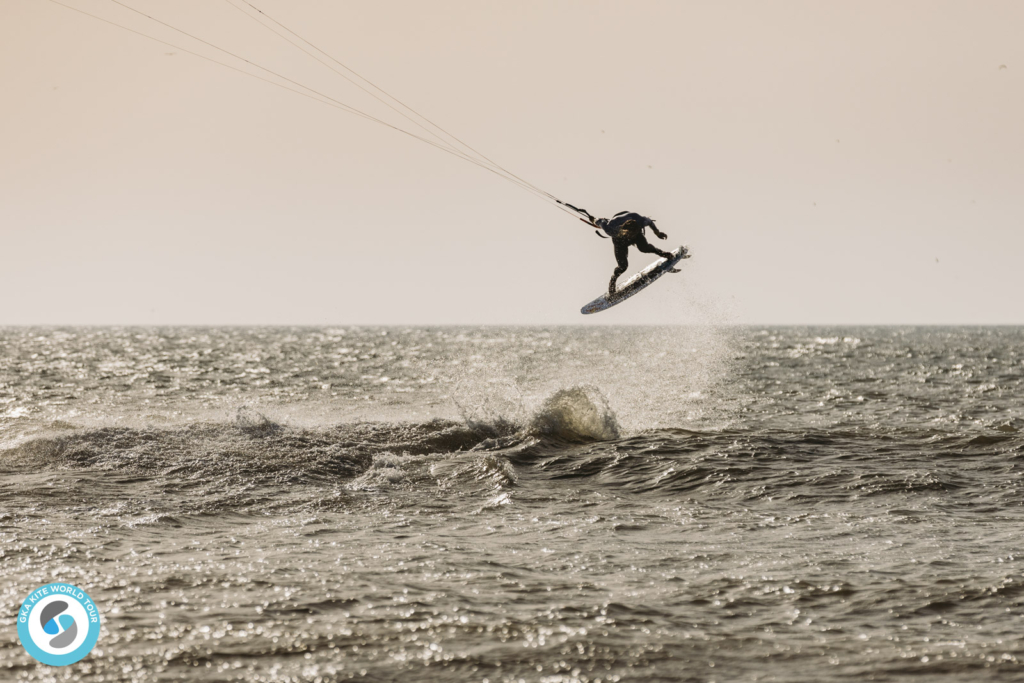 Airton eventually picked a vertical kicker on the way out and landed a big, powerful unhooked backside 3! He scored a massive 9.17 points… it was almost perfect and couldn't have been done better in wakeboard boots. The reigning Champion moved way out in front with 22.97 points, while Mitu was back on just 12 points, still yet to register a freestyle move.
If anyone could come back though it was Mitu…
These two are so inspiring to watch and it blows the mind to think what they're doing with their kites as well as their boards to maintain such speed and flow. The scores had moved on with more waves to 24.17 to 17.45 in Airton's favour. Mitu's better wave riding had brought him to within around 8 points.
Mitu came in on the inside, not looking for a kicker, working off the flats… he unhooked and landed a pop to blind and span 360 out… a fairly new trick for him and it was clean, but not as good as Airton's. He got 6.16…
The score: 24.17 to 21.1. What more could Mitu do? Three minutes left…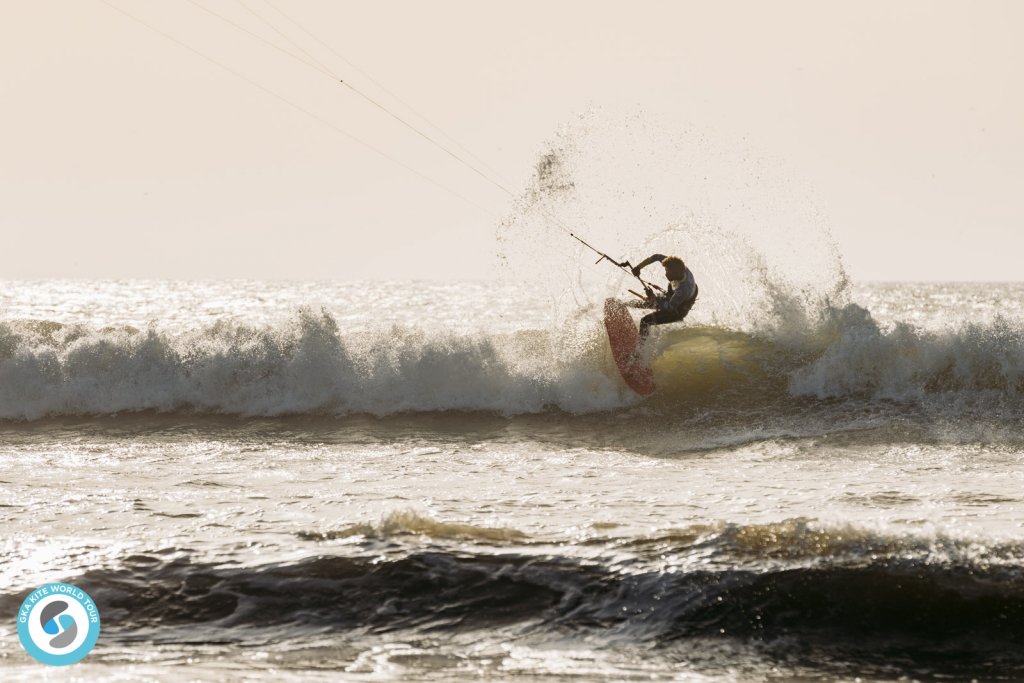 Mitu found a set wave in the closing moments – could he improve on his lowest wave score of 6.63? He managed just three turns unfortunately and turned off the back… 50 seconds left.
Airton was heading in on another wave… but suddenly downwind and into the sunlight Mitu completed a neat backside 3! Amazing drama – what would it score?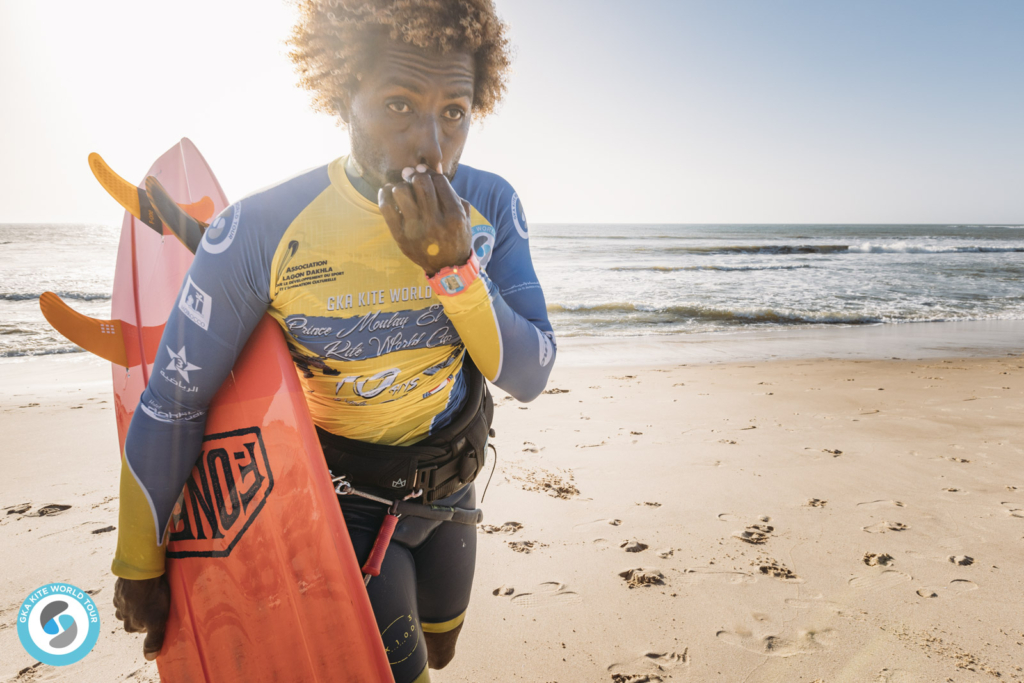 Both riders did all they could and yet again had gifted us with an amazing show. Airton's two best wave rides were a 7 and an 8 which, when added to his backside 3 that had scored 9.17, gave him a 24.76 final total.
Mitu's two best waves were worth 6.63 and 8.3 and then that unhooked backside 3 off the flats right at the end… got 7.83. So Airton had done it. One of the best comebacks we've ever seen, completing his eight heat winning streak through the double elimination and beating Mitu Monteiro TWICE!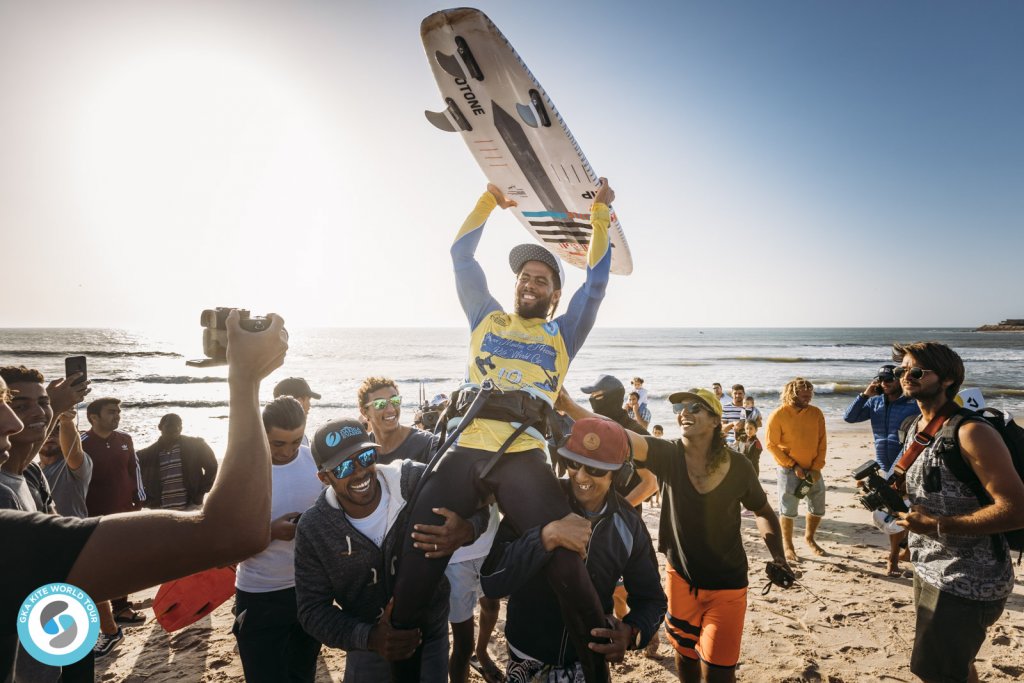 AIRTON WINS THE EVENT: 24.17 to 22.76
Airton: "I have no words, I was pretty nervous but I just went for it and I'm so stoked. Big thanks to my friends and everyone online who supported me, to my trainer and also my caddy for the day Francesco Cappuzzo! Amazing. Yes!"
Mitu: "Against Airton you never know what he's going to do. It's a shame we didn't get bigger waves, but it's always fun to ride with him on the water. So I'm happy and now I look forward to Brazil."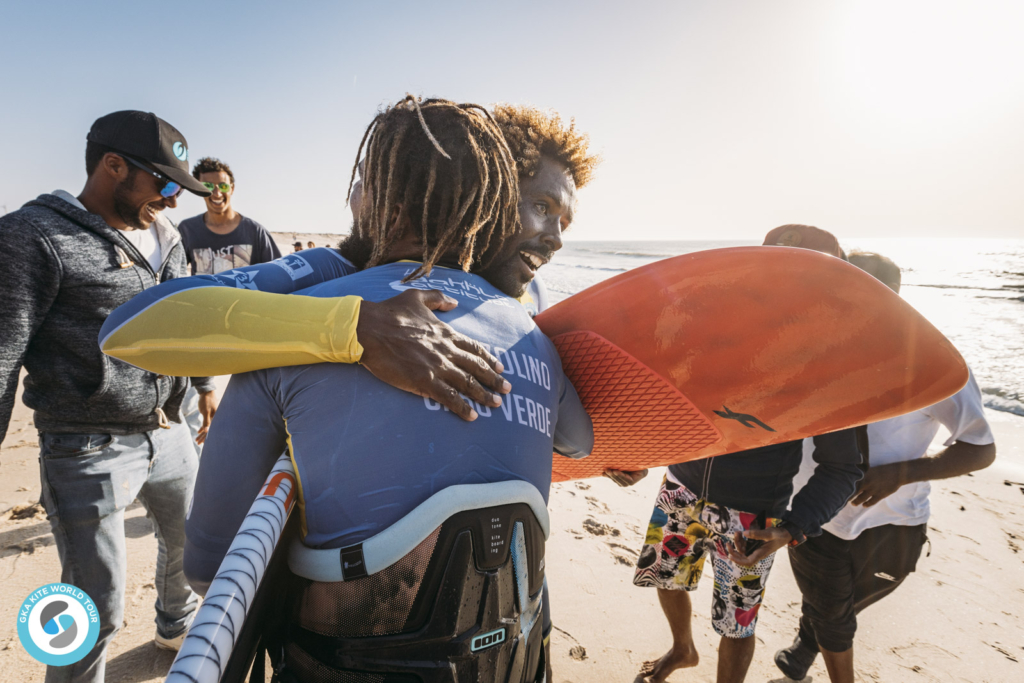 Comments
comments