Kirsty is Queen of the Desert! Dakhla Kite-Surf Update
Thursday 10th October
Current discipline: Kite-Surf 
Judging Criteria:  Pure wave
Format: Single elimination. Up to 15 waves will be scored, the top two scores count. Judges looking for power and fluidity throughout the turns and connecting sections
Wind: 20 knots and cross-offshore
Waves: Small up to head high but they jack up nicely in front of Westpoint.
Reports: Jim Gaunt
Photos: Ydwer van der Heide 
Videos: Olivier Umpierre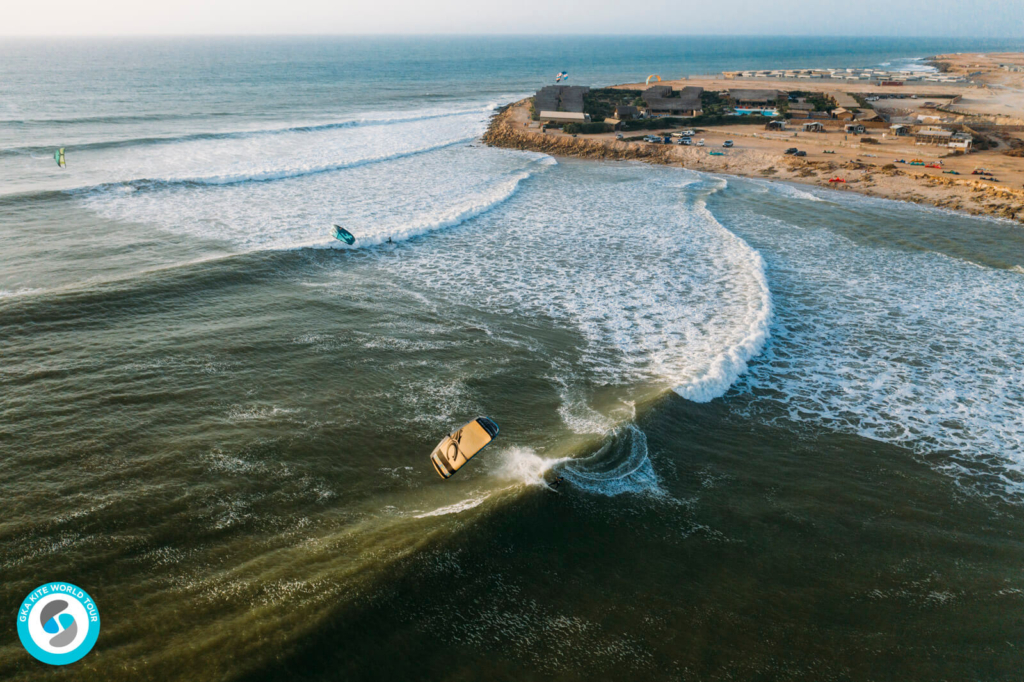 Welcome to day two of the Kite-Surf competition at the GKA Kite World Cup Dakhla. The livestream will be starting upon completion of the remaining few heats of men's single elimination round one.
The big news yesterday was that Dakhla resident for the last few years, Kirsty Jones, who is originally from Wales and has a vast amount of competition experience, including World Titles under her early career belt, won the women's single elimination yesterday.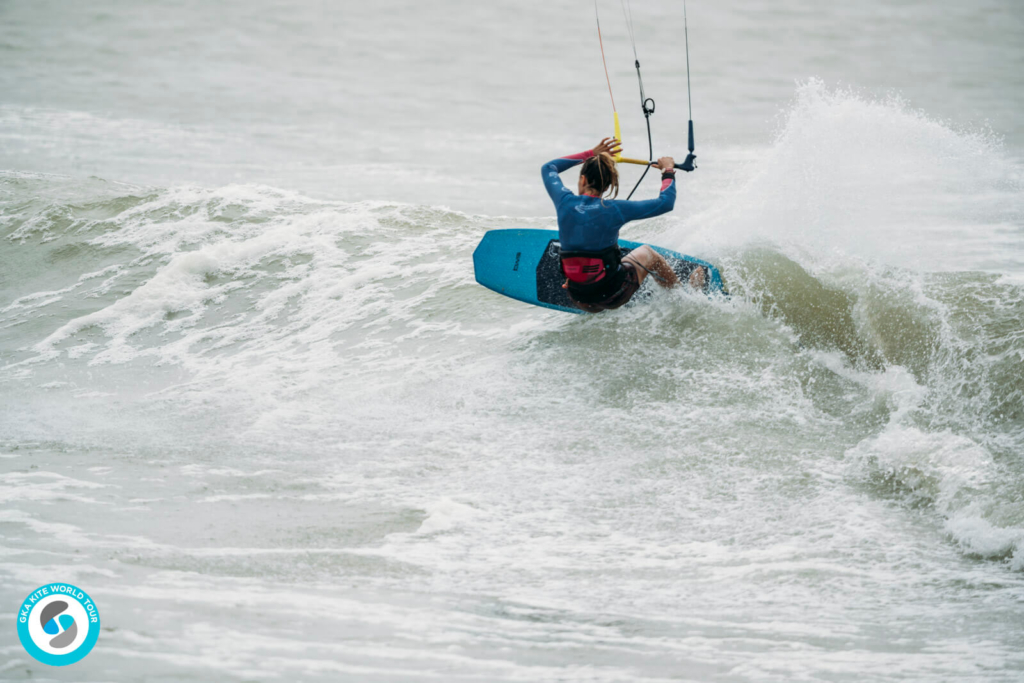 As the tour visits some really core kiteboarding locations through the year, there are always going to be some highly skilled riders motivated to enter certain competitions who are capable of causing an upset and disturbing the fight for the title. We saw the same with Jalou Langeree and Ninja Ricot taking the top two spots at Mauritius in the last round, while Kirsty showed an undeniable comfort and class here in these conditions at Westpoint, suiting her natural stance.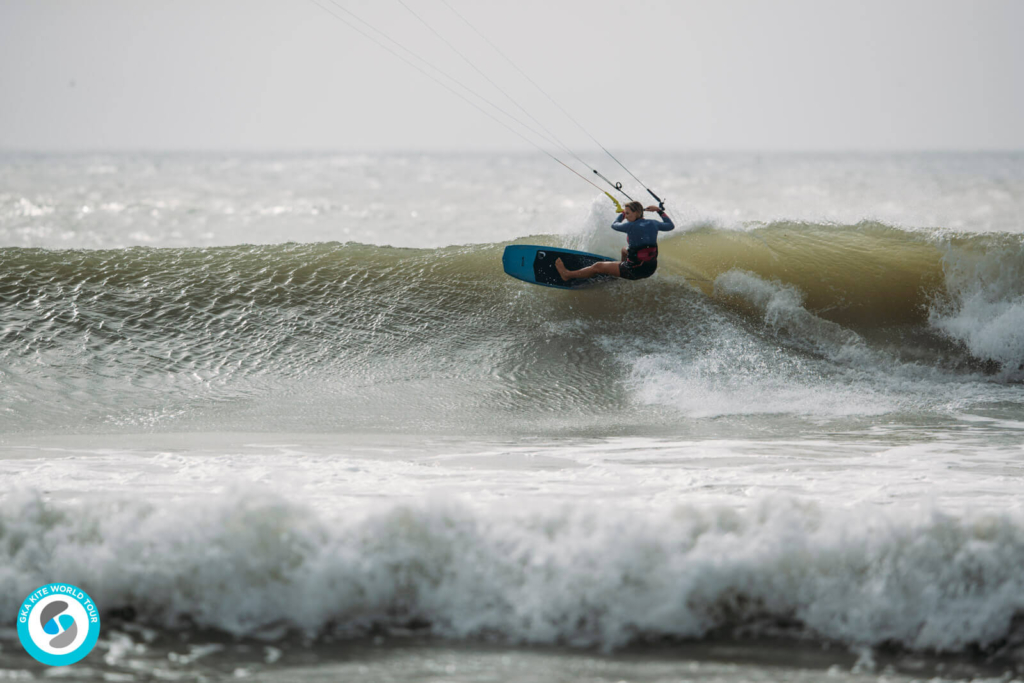 Tour leader Carla Herrera-Oria's highest seeding meant that she was drawn against the event's wildcard rider, but unfortunately for her, that wildcard was a previous world champion with amazing local knowledge as early as round two. Carla now has it all to do in the double elimination coming over the next few days.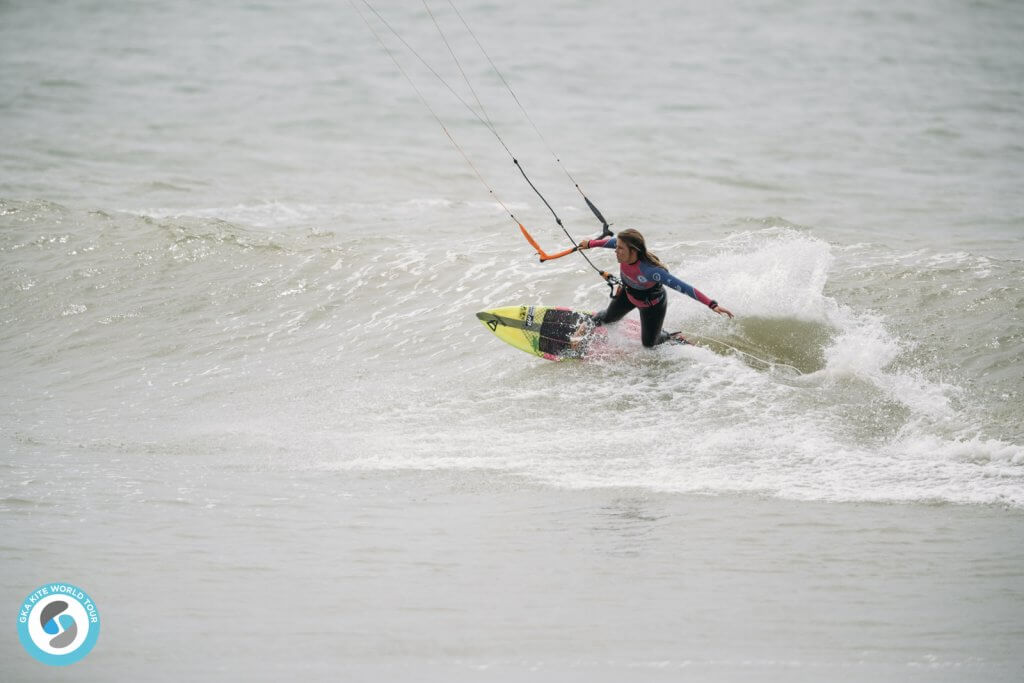 Kirsty meanwhile went on to beat one of the tour's most improved female chargers, Australian Peri Roberts in the semi-final and then France's Charlotte Carpentier in the final, who is currently lying in second on the tour.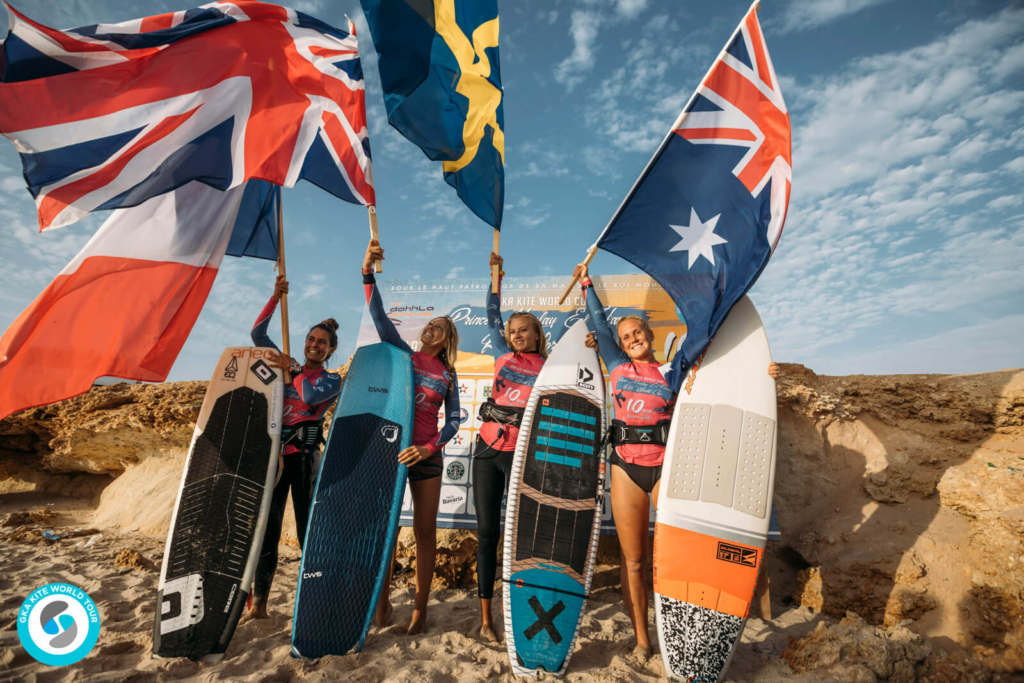 So, Kirsty left a real trail of destruction in her wake on Wednesday and in winning the single elimination has projected herself straight to the double elimination final.
WOMEN'S SINGLE ELIMINATION RESULT:
1st Kirsty Jones (UK)
2nd Charlotte Carpentier (FRA)
3rd Catharina Edin (SWE)
4th Peri Roberts (AUS)
MEN'S
Here's a gallery of images from the day followed by the results from the first heats in the men's single elimination. The big news for today will be the return of Keahi de Aboitiz to GKA competition this year – you may remember he holds somewhat of a lucky charm over this spot!
Remember, you can always check in on the day's live ticker by hitting the red live button on the website.
HEAT 04 B
L Millard V P Afonso
One of the tours rapidly increasing talents from Australia, Luke Millard takes a good scalp here in the form of Pedro Afonso, and by a good margin of 9.53 to 4.34.
MILLARD WINS
HEAT 04A
J Carew V H Bouceta
Tour number two ranked rider Australian James Carew eased hie way into this event, catching just five waves but amassing a relatively big 13.14 from his two best waves.
CAREW WINS
HEAT 03 B
C Delannoy V O Perrineau
Battle of France was won by Perrineau in a surprise to many, 8.8 to 4.6.
PERRINEAU WINS
HEAT 03 A
F Capuzzo V M Mansour
Typical workman's performance from tour regular Capuzzo with 8 waves to 5 and a score of 9.96 from his two best waves to the Moroccan's 4.68
CAPUZZO WINS
HEAT 02 B
G Harney V C Martin
A tricky one for the judges here with two up and coming riders. Graham Harney from Canada has done every event this year, while Charly Martin from Reunion Island massively impressed everyone with his full tilt wave approach in Mauritius. This battle went in Martin's favour 10.73 to 9.13.
MARTIN WINS
HEAT 02 A
M Monteiro V R Lafdali
The tours third ranked rider and previous Dakhla winner cruised through this heat, 12.5 to 5.33
MONTEIRO WINS
HEAT 01 B
Anderson Reboucas V J Fernandez
The Brazilian showed his greater experience here having performed to a high level already this year, especially in Mauritius last time out. He took a comfortable 9.63 to 3.13 win.
REBOUCAS WINS
HEAT 01 A
M Maji V S Joosten
Moroccan local M Maji pulled off a big win over one of the GKA Kite-Surf Tour's major players here. It was a tightly contested heat with six waves to Simon and five to Maji, but local knowledge snuck it, 11.23 to 10.06
MAJI WINS
The GKA Kite World Cup Dakhla is a double discipline event. The Freestyle competition concluded on Tuesday – hit the news tab on the website to catch up on that discipline. The Kite-Surf event now runs from the 9th – 13th October.
Stay tuned to the live page for details on the remaining heats of men's round one and the start of the livestream.
Comments
comments